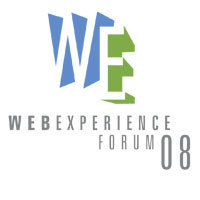 What's on the Internet Tonight Honey?
Boston, Mass. (PRWEB) August 27, 2008
With online audiences more demanding and Web 2.0 sites getting richer and more complex, the web experience a company delivers is growing in importance. Industry leaders from Intel, Microsoft, Citigroup, Fluid and others will reveal actionable ideas on improving the end-user web experience at the inaugural Web Experience Forum , taking place in Boston, October 14-16.
The Web Experience Forum (WEF) will bring all dimensions of the web experience under one roof. From back-end technology, measurement and site performance, to user interface, design and more, the WEF will explore US and International perspectives on the user experience across a variety of industries. A sampling of companies presenting at WEF 2008 include:

Intel: Brian David Johnson, Consumer Experience Architect of Intel's User Experience Group, speaks on the topic, "What's on the Internet Tonight Honey?" Johnson is a feature film director, television producer and spearheads Intel's Consumer Experience Architecture (CEA) which defines and maps the public's experience with products and services.
Fluid: David Hogue, Ph. D, Director, Information Design and Usability. Hogue promotes collaborative and iterative design to craft innovative online experiences for Fluid's e-commerce retail clients. He is responsible for creating Fluid's design processes and methodologies from discovery to prototyping.
Netvibes: Freddy Mini, Chief Executive Officer. Mini led Netvibes' expansion across four continents as the company pioneered its user-customized homepage as an alternative to traditional web portals. The Netvibes platform helps millions of users worldwide personalize their web experience.
TiVo: Margret Schmidt, VP, User Experience Design & Research. Schmidt leads the groups responsible for the user interface of TiVo's television and personal computer products, market and user research and field trials. Her teams work to ensure a fun, easy-to-use, and consistent TiVo experience for all consumers.
Gomez, Inc.: Imad Mouline, Chief Technical Officer. As a leader in web application experience management services, Gomez helps the world's top businesses measure the technical performance of their websites. Mouline is a valued source to media, analysts and others on how to engineer customer experience into online applications and services.
Microsoft: Mark Hydar, Group Manager, Global QOS Initiative. Mark has managed, monitored and deployed mega-scale web application platforms. He is responsible for the overall Quality of Service for Microsoft Live and, by extension, its web experience.
Citigroup: Jeff Fleischman, SVP, Customer Experience, Global Direct Banking. Fleischman is crafting a global approach to measurably transform the online banking experience and engagement model. Previously with Monster.com, he led its web strategy to expand market reach by improving the online experience and website satisfaction.
The WEF 2008 keynote speakers will be Jakob Nielsen, founder of Nielsen Norman Group, Lou Carbone of Experience Engineering, and David H. Stone, Senior Vice President of Online Customer Experience at Wachovia. Other companies presenting at WEF include Siteworkx, WebLiquid Group, blip.tv, Akamai Technologies, EdgeCast and Forrester Research.
The Web Experience Forum will be held at the Boston Park Plaza Hotel. The conference agenda and other details can be found at http://www.webexperienceforum.com. Special discounted room rates are available at the Boston Park Plaza Hotel & Towers and the Marriott Copley Place.
Media Contact:
Samantha McGarry
781.778.2783
press @ webexperienceforum.com
# # #