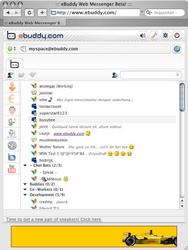 eBuddy is experiencing rapid growth and success by offering an aggregation of IM networks in one interface and we're excited to add MySpace to our list
San Francisco, CA and Amsterdam, the Netherlands (PRWEB) August 22, 2007
eBuddy, the first and largest worldwide independent provider of web and mobile instant messaging , today announced the addition of MySpace IM to their already extensive list of supported IM networks. In addition to MySpace IM, supported networks include AOL, GoogleTalk, MSN and Yahoo!
Over 25 million MySpace IM users can now use eBuddy to chat with their friends from the office, school or wherever internet is available - all without having to download and install any application on their computer. Also, Apple users can now for the first time access MySpace IM through this web based service, as there currently is no MySpace IM application support for the Apple operating system.
"eBuddy is experiencing rapid growth and success by offering an aggregation of IM networks in one interface and we're excited to add MySpace to our list," states CEO and co-founder, Jan-Joost Rueb. "eBuddy is the global market leader and is currently experiencing enormous U.S. growth. The U.S. market represents a phenomenal opportunity for eBuddy as web and mobile messaging continue to rapidly expand there. It is the primary reason we plan to open a Silicon Valley based office before the end of 2007, and why our most recent IM network additions have been for GoogleTalk, and now, MySpace."
Web and Mobile Messaging
eBuddy offers a service which enables IM users to chat with AOL, GoogleTalk, MSN, MySpace and Yahoo accounts without having to install any application on their computer (http://www.ebuddy.com). Users can also access eBuddy on their mobile phone, independent of carrier or device type via the WAP, or mobile internet browser (mob.ebuddy.com). As the global, independent IM leader, eBuddy has 10M+ unique visitors, 1M+ mobile users and 150k PSP users every month, and is experiencing online time growth at an annual rate of 150%.
About eBuddy
eBuddy created the first, independent, web browser-based instant messaging service as eMessenger in 2003. Its patent-pending technology enables millions of unique users to chat over the web and mobile phones. eBuddy is backed by European VC Lowland Capital Partners and is a privately owned, Amsterdam based company. For more information, visit http://www.ebuddy.com.
U.S. Media/Marketing Contact:
Mindy M. Hull
+1 415 606 7767
eBuddy PR:
Lissa Mackie
+31 20 5141426
###