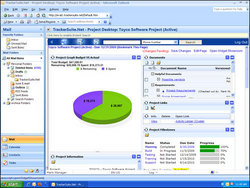 This really helps when you execute IT projects in partnership with clients, vendors and outside contractors, as we often do.
Tucson, AZ (PRWEB) October 8, 2009
Automation Centre (http://www.Acentre.com), a leading provider of advanced team collaboration software, today announced that adoption of TrackerSuite.Net 3.0 (http://www.TrackerSuite.Net) has exceeded all expectations, with more than 40% of current customers upgrading to the new version in just the first eight weeks. Steven Birchfield, CEO of Automation Centre, says "The ease of upgrading and dramatic improvements made this release a huge hit with our customer base."
TrackerSuite.Net 3.0 is a cloud computing, Web based project management and virtual office platform that integrates with an enterprise's core systems, including accounting and payroll databases such as Microsoft Great Plains and Intuit QuickBooks as well as email platforms such as Microsoft Outlook and Lotus Notes. This integration of data, tools and accessibility provides project managers, financial executives, HR personnel, purchasing managers and others the unique ability to manage, track and collaborate on projects, help desk services and other work processes in real time, all within familiar tools that they utilize every day.
Among the new features that customers have praised are widgets that enable them to mash-up information and capabilities from TrackerSuite.Net's various applications. Through widgets, users can customize their work experience for maximum personal productivity. For example, users can configure their own personal home page from which they can review status reports, project portfolios, financial reports, or create and assign tasks or support tickets.
"I use the widgets feature to review invoices from my project desktop. Seeing that widget when I open a project is very helpful." --Jennifer Winter, Vérité, Inc.
TrackerSuite.Net 3.0 also offers the ability to synchronize with Active Directory. When personnel information is added, removed or updated in Active Directory , these changes are reflected automatically through the system, vastly simplifying employee roll-on / roll-off processes as well as personnel management issues, such as when an employee requires a name change, in cases or marriage or divorce, for example.
Version 3.0 also heralds the debut of Invoice Tracker.Net, a stand-alone upgrade of TrackerSuite.Net's invoice processing tools. As a separate module within the larger suite, Invoice Tracker.Net allows financial personnel to forecast, review and bill professional services.
Feedback from customers about the new TrackerSuite.Net 3.0 has been enthusiastic. The comments received include:
"With TrackerSuite.net 3.0's data warehousing and reporting capabilities, I can analyze expense reports by individual, project code or other metric. The ability to slice and dice information is a big plus."--Matt Benvenuti, Oticon Canada
"I like the ability to rename projects. The person-rename feature is also useful."--Kempton Mooney, Random House, Inc.
BBDO, one of the world's largest advertising agencies, uses TrackerSuite.Net to manage internal and external IT projects. "One of the features we like most about TrackerSuite.Net 3.0 is how you can save all pertinent emails, documents and information within the project file," said Jan DeWinnaar PMP, Project Management Office Lead at BBDO/Detroit. "This really helps when you execute IT projects in partnership with clients, vendors and outside contractors, as we often do."
"The evolution of corporate computing into a highly distributed, cloud-based structure continues. TrackerSuite.Net 3.0 is ideally suited for this changing environment, which is why we believe it has received such immediate acceptance," said Steven Birchfield. "Our goal is to continue developing TrackerSuite.Net as the most complete, intuitive and cost-effective productivity tool for modern workplaces--a solution that is matched to our users' needs and work styles."
To learn more about TrackerSuite.Net 3.0, or to request an online demo, please visit http://www.TrackerSuite.Net.
About Automation Centre:
Automation Centre is a leading provider of advanced team collaboration software solutions for companies and organizations of all sizes. Automation Centre's products include Tracker Suite® and TrackerOffice®, providing exceptional simplicity and ease-of-use through their integration with Lotus Notes/Domino and Microsoft Outlook/Exchange; and TrackerSuite.Net™, leveraging the power of cloud computing to deliver access and collaboration via a virtual office interface. The company is a Premier Business Partner with Lotus, an IBM Business Partner, and has been named to the Microsoft Exchange, Microsoft Project, and Microsoft Certified Partner programs. For more information about Automation Centre, please visit the corporate website.
###