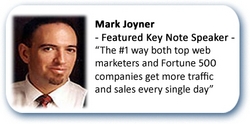 We had two qualifications for selecting the All-Stars of traffic
Dallas, TX (PRWEB) September 26, 2008
A group of over 12 Internet Marketing 'All Stars' are being brought together by Nitro Marketing and Trafficology LLC for a free training marathon to share powerful strategies on generating web traffic. The primary theme of this groundbreaking event is teaching business owners who have a web presence how they can survive (and even flourish) in the current recession.
It's no secret that major events such as Hurricane Ike, the Wall Street crisis, and skyrocketing gas prices have had a profound impact on the economy. Only a few have not felt the impact directly or indirectly and some of these people are those who are considered the best marketing minds on the planet.
This marathon event will give online entrepreneurs and/or online business owners over 12 hours of free training from these marketing masters on the primary skill they consider the "make or break" element in the success of any business web site.
"Generating highly targeted traffic is one skill that if you do not have, do not acquire, and do not master you cannot possibly be successful online", says Dearl Miller, Editor of Trafficology. "If you ignore it you cannot stay in business, much less thrive".
Traffic generation can be described as the ability to find and convince people to purchase products. The key being that it's not enough to get just anyone - who may or may not be interested in a particular product or offer - to visit a website. In the online world, a website owner's ability to attract targeted visitors who are already hungry to buy is essential.
"Learning how to generate highly targeted traffic to a website is a sure-fire way to recession-proof anyone's internet business," says Dearl. "The goal of this training marathon is to quickly give people simple step-by-step instructions on exactly how to get more customers to their web site immediately. This one-time only event will save listeners thousands of dollars and countless hours going through countless other individual books, courses, and seminars. Now they can get it all in one place, for free."
"We had two qualifications for selecting the All-Stars of traffic," Dearl continues. "One, each expert had to be very successful with their own online businesses. And two, each had to be a hands on practitioner of what they were teaching, not just someone who knew someone or had read a book. One of the speakers is doing more than $100 million per year in his online business."
Some of these web traffic 'All-Stars' include world-renown trainers such as Mark Joyner (keynote speaker), Shawn Casey, Perry Marshall, and Joel Comm. In addition to sharing step-by-step instruction on their top traffic tactic, experts will also share their specific advice on exactly what website owners can do to quickly ramp up their traffic and sales during a down economy.
For more information about the free 'All Stars of Traffic' Marathon and to register for free, go to: http://www.WebTrafficAllStars.com
About Trafficology's All-Stars of Traffic:
Trafficolgy has been a leading internet marketing newsletter since 1997 and provides powerful training to build a business and wealth over the internet for people of all experience levels. As 'Godfather of Internet Marketing' Mark Joyner states: "Learning new ways to bring people to your website is like learning new ways to print money. If that's what you're after, Dearl Miller of Trafficology is your man. I can't think of a single person who knows more web promotion tactics than Dearl. Wait...Let me try...Nope. I Can't."
If you - or anyone you know - could benefit by learning how to create floods of high quality traffic to their web site or business, visit (or send them directly to) the All-Stars of Traffic.
###