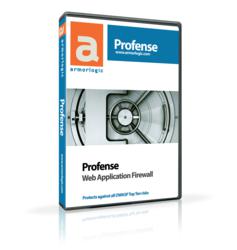 By adopting Nginx, our Profense WAF became able to meet or exceed the processing performance of web application firewall products costing 10 times more than Profense
Victoria, BC Canada/Copenhagen, Denmark (PRWEB) October 25, 2011
Armorlogic, a leading developer of web application firewall (WAF) and load balancing software, is pleased to announce that its Profense Web Application Firewall now handles a practically unlimited number of concurrent users and processeses in excess of 32,000 https requests per second when installed on entry-level Dell(tm) servers.
"By adopting Nginx, our Profense WAF became able to meet or exceed the processing performance of web application firewall products costing 10 times more than Profense," said Armorlogic Vice President, Jakob Gercke. "Unlike process or thread-bound WAFs, Profense is able to handle more users with fewer resources and it scales better vertically by adding additional hardware (CPU and memory) thanks to its non-blocking asynchronous I/O model."
Profense is compliant with PCI DSS section 6.6, and provides web application security protection against the OWASP Top Ten critical risks facing organizations, including SQL Injection, Cross Site Scripting (XSS) and other threats.
"Profense is priced at only $2995 for its full featured, powerful standalone web application firewall license so there is no reason for any business or government agency to go without web application security protection," said Gercke. "While web application firewalls in the past have been tied to expensive proprietary hardware, Profense is instead an easy to use, easy to install "soft appliance" that runs on any common server and virtual platforms like VMWare. This independence from hardware leads to easier redundancy and more flexibility around multi-node setup." While web application firewalls provide advanced website and web application security, scalability, high concurrency and high availability are also important attributes for a WAF as they ensure user access and an enhanced experience for websites and web applications.
About Armorlogic
Armorlogic is the developer of Profense™ web application firewall software solutions that provide cost effective and easily implemented proactive web security and protection for web sites and web applications. Profense provides complete OWASP Top Ten vulnerability protection and fully complies with and satisfies the Payment Card Industry Data Security Standard (PCI DSS) requirements. Armorlogic's Profense line of web application firewalls also include auto learning, advanced load balancing, acceleration, high availability (including active/active), session persistence and compression, and XML, JSON and SOAP support. Armorlogic also offers the Profense Web Load Balancer with industry leading performance at a fraction of the price of other load balancers. For further information or to download a free 60 day trial of Profense Web Application Firewall or Load Balancer, please visit http://www.armorlogic.com.
###