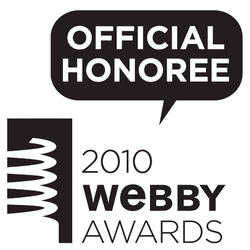 envisionit media is honored to receive the Official Honoree recognition by the 14th Annual Webby Awards.
Chicago, IL (PRWEB) April 22, 2010
envisionit media has received a Webby Honoree Award from the 14th Annual Webby Awards committee for the interactive agency's "Good Egg Project" website for the American Egg Board. The annual Webby Awards, also called the "Oscars of the Internet," honors excellence in web design, creativity, usability and functionality. Almost 10,000 entries are received from all 50 states and from 60 countries worldwide.
The Good Egg Project site was submitted for the Associations category, and was judged on its content, structure, navigation, visual design, functionality, interactivity and overall experience. The site was developed for America's Egg Farmers, showcasing their commitment to delivering high-quality eggs as well as caring for their animals and the land they farm. This initiative addresses the growing interest in food production by educating people about modern egg farming, introducing them to the farmers that care for their eggs and encouraging them to eat good and do good every day.
"envisionit media is honored to receive the Official Honoree recognition by the 14th Annual Webby Awards," states Todd Brook , CEO of envisionit media. "We'd like to thank the American Egg Board for providing us the opportunity to take part in such an important initiative."
The Good Egg Project has been featured on the Rachael Ray Show, and is a proud sponsor of Sesame Street. The website has facilitated more than 400,000 egg donations to Feeding America since its inception – that's in addition to the 12 million eggs already donated annually by America's Egg Farmers. There's still time to take The Pledge and experience the Good Egg Project website by visiting http://www.goodeggproject.org/. The 14th Annual Webby Awards will be held on June 14th, 2010 in New York City.
About envisionit media
envisionit media is an interactive marketing agency specializing in creative, technology, and strategy. The agency's thought leadership and award-winning work helps companies across a diverse set of industries drive meaningful action from their target audiences. Founded in 2002, envisionit media is privately owned and is headquartered in downtown Chicago.
###