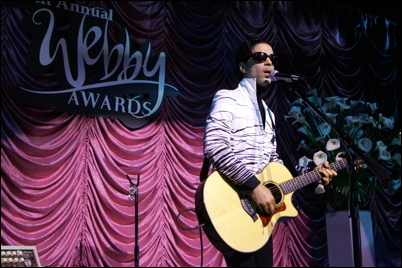 New York, NY (PRWEB) April 10, 2007
In keeping with its famous five-word speech limit, The 11th Annual Webby Awards nominees unveiled today can be summed with just five words: "The Year of Online Video."
From Jumpcut (Best Broadband) and AOL's TMZ.com (Best Celebrity/Fan) to Steven Voltz's "The Extreme Diet Coke and Mentos Experiments" (Best Viral) and Mekanism's "Clearification" (Best Branded Advertising), video innovation is a hallmark of nominees in dozens of categories, confirming why it has become the driving force in a medium which continues to reshape everything from advertising and business to pop culture and politics.
A full list of all nominees in more than 100 categories can be found at
http://www.webbyawards.com/webbys/current.php.
"The Internet is becoming an even more integral part of our everyday lives thanks to the creativity and innovation of this year's nominees," said David-Michel Davies, the executive director of The Webby Awards. "It's especially exciting to see how so many of them are using the power of video to create a more vital and entertaining online experience."
Hailed as the "Oscars of the Internet" by the New York Times, The Webby Awards is the leading international awards honoring Web sites, online film and video, interactive advertising, and mobile content. The Webby Awards is presented by the International Academy of Digital Arts & Sciences, a 550-person judging academy whose members include Vinton Cerf, R/GA's Chief Bob Greenberg, "Simpson's" creator Matt Groening, Arianna Huffington, and Harvey Weinstein.
Unlike other awards shows, where only judges choose the winners, The Webby Awards revels in the Web's democratic spirit. Starting today through April 27th, the public can cast their votes in The Webby People's Voice Awards presented by Verizon at http://peoplesvoice.webbyawards.com.
Winners will be announced on May 1st and honored at two star-studded ceremonies in New York City: The Webby Film & Video Awards on June 4th and The 11th Annual Webby Awards Gala on June 5th. Hosted by comedian Rob Corddry (Fox's The Winner, The Daily Show), the ceremonies will showcase both Webby and People's Voice winners delivering their own five-word speeches.
Highlights of the 11th Annual Webby Awards nominees include:
-- The Webby Awards received 8,000 entries from a record 60 countries. International nominees increased nearly 30 percent, with contenders hailing from dozens of nations, including Australia, Brazil, Canada, India, Israel, Mexico, South Korea, Singapore, Sweden, and the U.K.
-- The BBC received the most nominations (5). Other multiple nominees include NPR (4), NYTimes.com (4), Salon.com (4), Flickr (3), JonathanYuen.com (3), LinkedIn (3), The Onion (3), TruthDig (3), WeFeelFine.org (3), and Yahoo! (3).
-- The nominees for Best Practices -- del.icio.us, digg, Facebook, Flickr, and Last.fm -- represent the leading edge of new technologies and trends reshaping the Web.
-- Breakouts this year include Revver (Best Broadband), Threadless (Best Community), FabSugar (Fashion), Lego Star Wars II (Best Games-Related), 30 Boxes (Best Services), StumbleUpon (Best Social Networking), TheFind.com (Best Retail), and WikiTravel.org (Best Travel).
-- Nominees for The Webby Film and Video Awards, a separate awards show honoring original film and video premiering on the Internet, range from major networks like NBC's "The Office Webisodes" (Best Comedy-Short) to indie upstarts like "It's JerryTime!" (Best Animation). (For more on the film and video nominees, visit http://www.webbyawards.com/press/press-release.php?id=126 ).
-- Notable nominees in the new interactive advertising categories include Varitalk's celebrated "Snakes on a Plane" campaign (Best Viral Marketing) and R/GA's "Nike Women Rockstar Workout" (Best Branded Content), which allowed fans to pause a hit dance video and learn moves directly from its choreographer.
-- In the interactive advertising categories, several agencies received multiple nominations including: five for Crispin Porter + Bogusky and R/GA; four for Farfar; three for AlmapBBDO; and two each for DDB Brazil, McCann Digital, Saatchi and Saatchi LA, and Euro RSCG 4D. (For more on the advertising nominees, visit http://www.webbyawards.com/press/press-release.php?id=125 ).
-- Contenders in the inaugural mobile content categories include heavyweights like Yahoo! Mobile Web and Maxim Mobile and rising stars as Thumbplay and Travelosa.
The voting process is overseen by PricewaterhouseCoopers.
About The Webby Awards:
Hailed as the "Oscars of the Internet" by the New York Times, The Webby Awards is the leading international award honoring excellence on the Internet, including Web sites, interactive advertising, online film and video, and mobile web sites. Established in 1996, the 11th Annual Webby Awards received a record 8,000 entries from all 50 states and over 60 countries worldwide. The Webby Awards is presented by The International Academy of Digital Arts and Sciences. Sponsors and Partners of The Webby Awards include: Adobe; The Creative Group; Verizon; AOL Video; dotMobi; Level3; Adweek; Fortune; Reuters; Variety; Wired; IDG: Brightcove; PricewaterhouseCoopers; 2advanced.Net; KobeMail and Museum of the Moving Image.
Contact:
Gita Chandra
Patrick Kowalczyk
MKPR, 212.627.8098
# # #