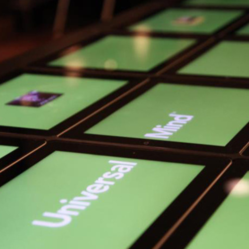 It is the next evolution of the multi-device communication.
Denver, CO (PRWEB) May 01, 2013
Digital Solutions Agency, Universal Mind, announced today that it has been selected as the People's Voice Winner in the Experimental & Innovation category of the 17th Annual Webby Awards, the Internet's highest honor as deemed by the New York Times.
http://winners.webbyawards.com/2013/mobile-apps/handheld-devices/experimental-innovation/universal-minds-interactive-ipad-table
Having been an Official Honoree in the 16th Annual Webby Awards for their, "Jimi Hendrix: The Complete Experience App", this marks the second year in a row Universal Mind has been honored by the International Academy of Digital Arts and Sciences.
Universal Mind will be honored at the Webby Awards ceremony on Tuesday, May 21, 2013 at Cipriani Wall Street in New York City. Fans can tune in on Wednesday, May 22, 2013 watch.webbyawards.com.
ABOUT THE IPAD TABLE
The iPad Table is an interactive experience developed to push the limits of mobile device-to-device communication. This experience shows how fifteen different iPads talking through the same network can act as one and simulate a single physical surface. It has been showcased by Universal Mind as a compelling medium for telling the story of what they do as well as showcasing the kind of work they create. It is the next evolution of the multi-device communication being developed by Universal Mind's Research and Development team led by David Tucker and Joe Johnston.
ABOUT THE WEBBY AWARDS
The Webby Awards is the Internet's most prestigious international award and a symbol of industry leadership. The 17th Annual Webby Awards received more than 11,000 entries from all 50 US states and over 60 countries worldwide which were winnowed down to five nominees in each category.
ABOUT UNIVERSAL MIND
Universal Mind is a digital solutions agency that fuses the technical expertise of a systems integrator with the design capabilities of an interactive agency to deliver enterprise-grade, interactive software applications for the web, desktop, kiosks and mobile and embedded devices. Universal Mind works with clients to create best-in-class solutions that provide an exceptional user experience while overcoming complex technical challenges across a wide variety of devices. The Universal Mind team has developed applications for many of the world's leading enterprises that help them strengthen their relationships with customers, reduce their operating costs, and open new revenue streams. Founded in 2003, Universal Mind is a privately held company. For more information, please visit http://www.universalmind.com.