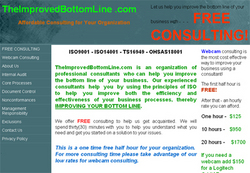 Saginaw, MI (PRWEB) August 25, 2009
For many consultants, as much as 50 percent of business expense comes from travel. TheImprovedBottomLine.com has announced the strategic use of webcam consulting to eliminate travel expenses for its ISO consulting clients, who can then pass along significant savings to their customers.
Highly qualified ISO consultants already offer a great value to businesses by helping them to operate more effectively and efficiently, according to TheImprovedBottomLine.com principle, Robert McIntyre. However, by combining that benefit with the cost effectiveness of using webcams for consulting, McIntyre can also eliminate travel costs and significantly cut ISO consulting costs for his customers.
"We all want to improve our bottom line, and reducing the cost of consulting is a great way to do that," said McIntyre. "Webcams allow us to do face to face consulting at a time that is convenient for our customers. We meet their schedule - they are not dependent on ours."
The company kick-starts the consultation process with a free half-hour initial consultation. Subsequent webcam consulting takes place on the client's schedule, yet still allows for virtual face-to-face meetings. TheImprovedBottomLine.com focuses primarily on organizations involved in ISO, and provides consulting on core processes, ISO exclusions, internal audits, document control, nonconformances and more.
For more information about how to reduce travel expenses or even completely eliminate travel costs associated with ISO consultation through webcam consulting, visit TheImprovedBottomLine.com.
About TheImprovedBottomLine.com:
TheImprovedBottomLine.com is made up of a team of ISO consulting professionals dedicated to helping businesses improve their financial outlooks. The company applies the proven principles of ISO to improve the efficiency of both product and service oriented businesses, thereby improving the bottom line. The company employs high-quality webcams for consulting, further reducing the usual costs associated with consulting.
###