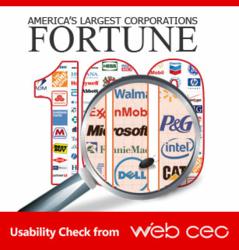 ...on average, every second index page of the top cash-generating corporations has a broken link.
Kherson, Ukraine (PRWEB) September 27, 2011
Web CEO has conducted an SEO audit of the websites of Fortune 100 companies, searching for errors, such as broken links and other technical violations that might affect the visibility and visitor experience aspects of these sites. The quality checker discovered that, on average, every second index page of the top cash-generating corporations has a broken link.
Upon deeper analysis, more problems were found. Within two website levels (i.e., not only the index pages, but the pages that those index pages point to), the average number of broken links was 30 per company.
Why does Fannie Mae use the meta refresh redirect technique?
Interestingly, Fannie Mae, the number 5 company on the Fortune 100 list, uses a method to send visitors to a homepage that most small web business owners would be afraid to implement for fear of being punished by Google.
When http://www.fanniemae.com is requested, it instantly updates with a different URL: http://www.fanniemae.com/kb/index?page=home. The website uses Meta refresh with a zero refresh time.
Many SEOs now agree that using Meta refresh with a short redirect time is a spam signal for Google because this method is used by search engine spammers to provide one page to search engine robots and a completely different one to human users. Google representatives have never openly warned against using Meta refresh; however, they have always recommended that webmasters use a server-side 301 redirect as a preferred method of visitor redirecting.
Microsoft has 3 broken links on their home page
There are broken links on Microsoft.com's homepage. Some links on their country menu open up as a 404 error page. This happens if one tries to follow the links that Microsoft suggests to visitors from Serbia/Srbija (http://www.microsoft.com/sr/latn-rs/), Monte Negro/Crna Gora (http://www.microsoft.com/sr/latn-me/) and Puerto Rico (http://www.microsoft.com/es/pr/).
Large and small companies can rely on website users emailing them about usability errors like this, but it would be advisable for webmasters to use software to scan for these automatically and deliver reports/alerts on a regular basis.
About Web CEO Online: Web CEO Online (http://www.webceo.com) is a new web-based project of the Web CEO team that has created the most popular search engine optimization (SEO) software in the world (823,000 registered users of the desktop software version). Web CEO Online (27,000 users) includes tools for keyword research, search engine optimization, backlink building, website audit, ranking and backlink tracking. Web CEO Corp. is based in Kherson, Ukraine, a thriving center for software/Web development with a well-educated labor pool.
###