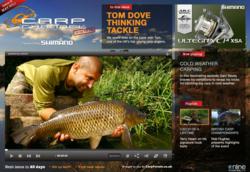 Gareth Purnell said: "We have created a close working relationship with Miomni that has enabled Fishing TV to build the most comprehensive Fishing TV Channel currently on offer anywhere in the world to our knowledge."
(PRWEB UK) 19 December 2011
Miomni has enabled Fishing TV to deliver a new video publishing model through multi-platform syndication of its video content online, on smart phones and smart TV.
The Fishing TV solution enables consumers using web connected devices to access free-to-view video content on over 30 syndicated fishing websites across the web.
Miomni has worked closely with Fishing TV, the premier provider of angling-related video, to create a four-channel fishing experience on web-connected devices via the Miomni syndicated iFrames.
The syndicate sites act effectively as Fishing TV's distribution network for its content, with viewing figures growing rapidly at a time when on-page publishing is struggling.
The partnership entailed the London arm of new media specialists Miomni writing a functional and design specification, agreeing design wireframe and artwork, project management, application build and QA.
Fishing TV's four monthly video magazines – 'Coarse And Match Fishing Monthly', 'Game Fishers Diary', 'Carp Channel Monthly' and 'Sea Watch Monthly' - each broadcasts about three hours of free-to-view video each month from some of the sport's top names.
Revenue comes from core advertising from the angling trade, and non-core advertising provided through video advertising specialists Smartclip.
Video content is replaced every month with a new 'issue', with the existing content moving into Fishing TV's advertising-free and members-only Premium section – a classic 'Fremium' model.
The Miomni design for Fishing TV is also available on smartphone and tablet devices via the standard web browsers.
Miomni is now working with Fishing TV to bring their offering onto Smart TV, starting with the Samsung SmartHub by the end of first quarter 2012, closely followed by Panasonic with the Smart Viera Platform.
Fishing TV believes that angling has been poorly served by television over the years and the anglers deserve their own TV channel with programmes that are relevant to the fishing they do at the weekend.
In addition to its own exclusive shows, they have also acquired the rights to broadcast classic angling shows and programmes that have only had previously limited availability, from the UK and overseas. Miomni has built a sophisticated server side middleware 'engine' with its propriety Content and Asset Management system that enables Fishing TV to control the distribution of its video content on a site-by-site basis. Syndication partners can also log in at any time to view how the video magazines are performing on their sites, with Fishing TV cutting them in on the revenue.
The platform also manages the seamless integration to ad-serve partners in order to truly monetise Fishing TV's valuable content.
This service can be used to provide data and video to any number of connected device types including Smart TV, Web, Mobile and Tablet. This middleware service is hosted on the Miomni Global Delivery Platform, which can support a potentially unlimited number of users with its proven security model, protecting Fishing TV's underlying content.
Gareth Purnell, Head of Channel, Fishing TV said: "We have created a close working relationship with Miomni that has enabled Fishing TV to build not only the most comprehensive Fishing TV Channel currently on offer anywhere in the world to our knowledge, but also to create a completely new publishing model. They have assisted in introductions to the Smart TV players – an important move for us because as with the web, the Smart TV solutions will make the content available worldwide, but perhaps more importantly take it into people's lounges.
"Miomni have delivered on all aspects of the project requirement to budget and to the agreed timescales. This relationship, coupled with the technical foundation we now have in place, will enable us to create and launch innovative digital services in 2012 and beyond."
With Offices in London and the US Miomni provide a Multi-Platform digital Media Solution delivering user Interface, high quality video content, Interactive applications and e-commerce, to multiple platforms with full advertising capabilities. Miomni uses a proprietary content & asset management system. Incorporating a single integrated database for "over the top" global digital video delivery.
Miomni also has the advantage of in-house creative services for advanced multi-platform User Interface (UI) design and navigation solutions, covering all viewing experiences
"lean back" (10ft - TV with remote)
"lean forward" (2ft - PC with mouse and keyboard)
"hand held" (1ft - touch screen mobile or tablet)
Miomni Ltd
Head Office: Angel House, Angel Mews London N1 9HH - Tel: +44 (0) 207 837 1116
US Office: Miomni Corporation, 3940-7 Broad Street #305, San Luis Obispo, CA 93401 - Tel: +1 805-540-4578
Email: info(at)miomni(dot)com
Web: http://www.miomni.com
###