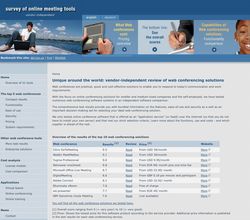 Frankfurt, Germany (PRWEB) July 29, 2008
http://www.webconferencing-test.com, the vendor-independent comparison portal for web conferencing services, now offers updated test results for 21 different solutions for collaboration over the Internet. The new software review shows that Microsoft Office Live Meeting 2007 has made substantial progress on the existing test winners from WebEx and Citrix. The new test results at webconferencing-test.com now also offer the "other web conference tools > more test results" category in addition to a comprehensive comparison of the five best solutions. This includes summary information and assessments on the tools tested and the consolidated results for each test category.
New tools in the test
The following solutions were newly included in the test group in order to cover the full range of the still growing market for online meeting solutions: WebHuddle, IBM Sametime Unyte Meeting, IBM Sametime Unyte Share, DigitalMeeting, we:presenter, iVocalize, pcvisit 4 Business Meetings, Bridgit Conferencing and RHUB.
Finding your way in the license jungle
Various license models are offered for web conferencing solutions. In the new "license models" category webconferencing-test.com presents the various approaches and gives advice on which license models are suitable for which usage types and intensities.
Stronger separation between solutions for smaller and large companies
The comparison portal differentiates now even more clearly between tools for freelancers, small and medium-sized companies on the one hand and those for large companies on the other. The aim is to allow SMEs in particular a quick orientation to the ever growing range of solutions in the marketplace.
###