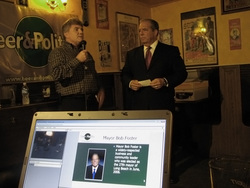 Long Beach, CA (PRWEB) October 14, 2008
For the past two years, Long Beach residents have met monthly for a political forum called "Beer & Politics", to share ideas with city officials like Long Beach mayor Bob Foster over a beer. On hand to deliver the September 29 meeting on the Internet via webcast was Costin Tuculescu, CEO and founder of InstantPresenter.com, a web conferencing provider based in Huntington Beach, CA, whose video and web conferencing software is revolutionizing the way business - and now politics - are conducted.
"Politicians are realizing that web conferencing and video conferencing technology can help them extend their reach into their constituents' homes and allows them to directly interact and take questions," said Tuculescu, who also serves on the Board of the Long Beach Junior Chamber of Commerce. "Using the interactive chat features, at-home audience members are able to send in questions live, and their questions are answered immediately during the webcast," Tuculescu said. It's no wonder, then, that InstantPresenter's user friendly, browser-based application is quickly gaining new converts - like "Beer & Politics" founder Michael Clements.
"When 'Beer & Politics' started, the goal was to give people a fun and comfortable setting to discuss the issues that affect their lives," Clements said. "With InstantPresenter, viewers are able to interact with civic leaders and other viewers as if they were standing face-to-face, minus the handshake." KCAL 9's Suraya Fadel covered the event, illustrating how town hall meetings reduce voter apathy, a trend enhanced by webcasting technology.
Customers of InstantPresenter currently include businesses, individuals, members of Congress and politicians on the campaign trail - and that's just the beginning. "We are looking to assist other local organizations in extending their reach using InstantPresenter," said Tuculescu, "such as local city councils bringing their council meetings into the homes of their constituents." With meetings archived on-line for 24/7 on-demand access, anyone can get involved. "InstantPresenter makes it a lot easier for people to feel comfortable about engaging their politicians," said Tuculescu.
About InstantPresenter
InstantPresenter is a browser based web conferencing and video conferencing service that uses cutting edge Flash technology to allow customers to meet and present online. InstantPresenter.com uses Video, VoIP, PowerPoint and more without the need to download and install additional software or purchase additional hardware. Find out more at http://www.instantpresenter.com.
Contact:
Thomas Davis
Director of Sales
Phone: 714-890-3008
###