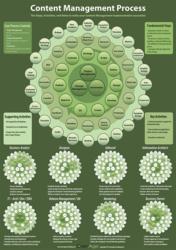 Change Management is a primary point of failure in many large scale WCM implementations.
Bedford, Nova Scotia (PRWEB) April 23, 2013
EverAge Consulting has the experience and expertise to implement solutions for any size organization. When implementing a web content management system most people believe that the technical aspects of implementation are going to be the most challenging, but as it turns out it's the more process related items that turn out being more problematic for organizations. The whole aspect of the change management, people having new roles, new task to do, sometimes can lead projects into trouble. As a result, EverAge has formalize that process in a poster in order to share it with a broader audience.
Andrew Wilcox, EverAge President, describes the structure of the poster, "The process is illustrated as a series of concentric rings. Each ring represent a level of importance, and along the ring are different steps or tasks. Each of these steps and tasks can then be allocated to different roles, so users can get a picture of where they fit in the overall process, and how their activities impact the tasks of others."
The WCM Process Poster is available online for viewing and also available for download.
About EverAge Consulting:
Since it inception in 2001, EverAge has witnessed an explosion in the variety of information management needs. EverAge focuses on 4 distinct practices within the umbrella of information management: Component Content Management (CCM), Web Content Management (WCM), Document Management (DM), and Mobile Content Management (MCM). Each of these areas share common aspects of content management, but differ in their focus and supporting business model. In many projects, we see overlap between these areas as clients strive to solve content management issues unique to their industry and product offering. With a combined experience of over 30 years, EverAge brings senior level professionals to identify, prioritize and strategize on your concerns and needs to identify the best solution that meets both fiscal and competitive needs.