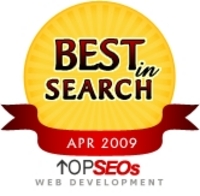 Because we are a company that fully customizes every website, there's no limit to the size or industry Hudson Horizons is able to work with.
Fair Lawn, NJ (PRWEB) April 7, 2009
In recognition of outstanding professional services, Hudson Horizons was named this month's #1 Best Web Development Company by topseos.com, the leading independent authority on Internet marketing businesses. The monthly rankings published by TopSEOs represent a guide to the cream of the crop Web Development vendors in the industry.
Based on rigorous evaluation criteria including competitive advantage, superior services, client testimonials, quality customer and technical support, unique company innovations, as well as overall efficiency and performance, Hudson Horizons has secured first place on this month's list of the Top Ten Web Development Firms.
Since 2003, Hudson Horizons has delivered quality, customized websites and web solutions to clients across the country. Its core web development team, guided by VP of Web Development Matt Mayernik and Lead Developer Robert Durish, brings an admirable level of proficiency and dedication to every project -- outshining the industry competition and continually attracting prospective customers.
Company founder, President and CEO, Daryl H. Bryant, proudly received the award while crediting his company's professional versatility: "Because we are a company that fully customizes every website, there's no limit to the size or industry Hudson Horizons is able to work with."
Industry experts from TopSEOs assessed several clients and websites designed by Hudson Horizons in order to fully determine the Web Company's capacity. Recently featured projects include Ticketini.com, an eCommerce ticket sales website with a unique incorporation of social media and networking features, and FindAnyFloor.com, an online mega-resource for all-things-flooring.
"The whole industry looks to us to identify reliable and accurate benchmarks and Hudson Horizons has proven by its performance that they deserve to be on this coveted list," shared Jeev Trika, partner at topseos.
To learn more about Hudson Horizons website development and design services, please visit hudsonhorizons.com or contact Daryl H. Bryant.
About Hudson Horizons:
Hudson Horizons is a professional Website Development and Search Engine Optimization Company, specializing in website design, SEO-friendly CMS, e-Commerce solutions, social networking websites, website hosting, and SEO.
A main company focus is to develop technologies that are commonly referred in today's Internet standards as Web 2.0 technology. Such examples include: blogs/weblogs, RSS feeds, social networking websites and communities, SEO-friendly content management systems, and other forms of communication and social web-based tools.
Their vision and ultimate ambition as a company is to always strive to be "The New Light for e-Business." By offering new, innovative and competitive products and solutions to clients, they provide better ways to run and operate businesses online.
###