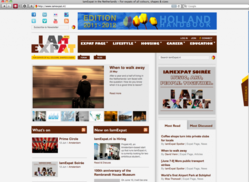 Using collaborative tools of the trade such as 37signals' BaseCamp and the Scrum methodology, Evermore was able to work in collaboration with people around the world to deliver a complicated, custom website using CakePHP, to create a resilent CMS.
Amsterdam, Netherlands (PRWEB) October 31, 2011
The wheels never stop turning at IamExpat.nl — a successful collaboration between Projekt 45, G Design Studio and Evermore New Media . Designed by expats, for expats, the site was envisioned by four business students when they met in Amsterdam and brought to life over the course of the next year, using talents from all around the world. Evermore's role in this project was to convert the designs provided by G Design Studio into a fully functional website. While Evermore offers design services too, its role in this project was to incorporate cutting-edge technology, social media integration and cross-platform discussion forums, enabling connectivity with services such as Facebook and Twitter.
All in all, Evermore built a scalable, stable website with plenty of power under the hood, with the kind of clear, clean user interface and minimalist design that benefits a successful, feature packed website that's easy-to-use. Behind the scenes, Evermore's development team produced a site capable of handling multiple databases, daily uploads of content, user forums and an ever-growing base of content and traffic. Using collaborative tools of the trade such as 37signals' Basecamp and the Scrum methodology, Evermore was able to work in collaboration with teams and individuals around the world to deliver a complicated, custom website using CakePHP, an open source web application framework, to create a resilent content management system.
It's hard work building, maintaining and developing a site the size of IamExpat.nl. That's where Marina, Evermore's project manager, comes in. Her role is to organize the team and ensure work gets done on-schedule. Using the Agile approach, the team is able to work on the project incrementally, while still working on the same goal, deliver critical and strategically important functionality first, and ensure that communication is always the top priority. Evermore has used the same methodology to produce other large websites to ensure work gets done — but working with so many people across the world has been Marina's biggest challenge and an extremely fun adventure at the same time!
Working with people across the globe, Evermore team's development, project management and coding skills helped to ensure the success of IamExpat.nl. A typical day in IamExpat:
Omsk, Russia, 9am: Maxim, technical lead, logs in at the office. Ahead of him lies a hard day's work incorporating feedback from the latest project testing and taking care of the next development sprint. IamExpat.nl contains over 10.000 lines of custom code, built from scratch to suit its content management requirements.
Amsterdam, 11am: Marina logs on to Evermore's Campfire chat room and begins the daily Scrum catch-up. As the project manager, it's her task to make sure everyone knows what they're doing, and when.
Macau, South China, 3pm: Stelios, founder of Evermore New Media, receives a message from Marina asking for clarification on some of the day's issues. Immediately, Stelios gets to work.
Athens, 7pm: Alexandros refines the latest designs and discusses with the IamExpat Team to ensure that the IamExpat brand identity is well incorporated in and clearly reflected on the website.
Amsterdam, 10pm: Panos logs on, approves the day's work, and switches out the lights in the office.
IamExpat.nl – created by expats, for expats.
IamExpat.nl was established by four friends who came to the Netherlands for different reasons but found the same reasons to work together. Starting out as students at the Rotterdam School of Management and Tilburg University, they decided to demonstrate their entrepreneurial side and give something back to the country they'd fallen in love with. As they graduated and found work across the globe, they invested their capital in forming the first version of IamExpat.nl, which has gone from strength to strength since then. Now, with the launch of the new version, IamExpat.nl is ready to become the most popular media platform for internationals in the Netherlands and even further..
Using the latest technology, the team has created an easy-to-use, intuitive, user-friendly website that enables customisable user profiles, commenting options, as well as social media integration. It was designed based on feedback from its members, who were consulted at every step of the design process.
Redesigning the site was based on the team's decision to provide content on a daily basis – in other words, making sure iamexpat.nl never gets old. But building a more active site required a substantial update to the site's framework. Evermore's role was to create a reliable website capable of handling a diverse and active user base and a regularly updated database of content, as well as converting G Design Studio's innovative design into a working website using the CakePHP framework.
About CakePHP
CakePHP is a rapid development framework for PHP that provides an extensible architecture for developing, maintaining, and deploying applications. Using commonly known design patterns like MVC and ORM within the convention over configuration paradigm, CakePHP reduces development costs and helps developers write less code.
About IamExpat
IamExpat.nl is a community-driven, online media platform dedicated to providing up-to-date, "inside" information, dutch news, services and lifestyle suggestions for all English speaking internationals in the Netherlands.
About Evermore
Evermore New Media, founded in 2004, is a full-service digital agency specializing in solutions for Small Businesses. Evermore New Media – Providing cutting edge web solutions across the globe. For more information on Evermore, visit http://www.evermore.eu. Connect with Evermore on Facebook: http://www.facebook.com/evermorenewmedia and Twitter: twitter.com/evermoretweets
# # #