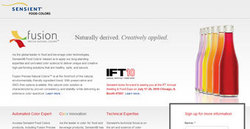 Chesterfield, MO (Vocus) October 26, 2010
At the 2010 Targeted Advertising and Marketing (TAM) Awards Party, Internet marketing agency, The Net Impact®, took home two awards for their creative work on Sensient® Food Colors' Internet marketing campaigns. The Net Impact's work with Sensient was recognized by St. Louis chapter of the Business Marketing Association (BMA) in the Electronic Direct Email and Web Development - Landing Page categories.
The Net Impact received the Bronze Award in the Electronic Direct Marketing Category for their entry of Sensient's Email Campaign and Landing Page. The Net Impact designed the campaign to announce Sensient's presence at the IFT Annual Conference and to build awareness around their new product, Fusion. Two different email marketing blasts were created in order to appeal to two different target markets. The email campaign drove targeted traffic to the landing page, which showcased Sensient's new product and included details regarding their upcoming presence at the tradeshow.
For their work on the landing page, The Net Impact also took home the Bronze award in the Website Development; Landing Page Category. This landing focused on introducing Sensient's new product line and announcing their participation at the upcoming Expo. In addition to increasing awareness surrounding Sensient's new product and their presence at the tradeshow, the landing page provided the opportunity for visitors to request further information on their company and included a link to Sensient's home page.
"This landing page provides brand recognition and cohesion for Sensient, while ultimately driving more traffic to the website and more business to the innovative company. We are honored that our team has been recognized for the hard work that went into producing the web design for a campaign that effectively works to the client's advantage," said Web Designer at The Net Impact, Sean Enzwiler.
The Targeted Advertising & Marketing (TAM) Awards showcase the best marketing campaigns in the St. Louis region and honor the agencies, companies, and individuals who create them. The TAM awards are sponsored by the St. Louis chapter of the Business Marketing Association (BMA). At the 2010 circus-themed TAM Awards Party at the Chase Park Plaza, The Net Impact took home six awards, including all three awards in the Social Media Marketing Initiative Category. This was the first year the Chesterfield- based agency entered the TAM Awards competition.
About The Net Impact®
The Net Impact, a full service Internet marketing and web design agency, is a division of Unidev®. Since 1997, The Net Impact has been a web development leader, empowering clients with highly creative search engine friendly websites. Professional services encompass search engine optimization and Internet marketing solutions, Internet strategy development, training and seminars, social media marketing and design, and web design and development. For more information on The Net Impact, please visit http://www.thenetimpact.com, or call (888) 629-4672.
###