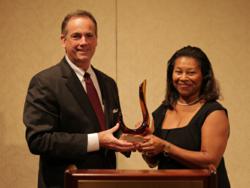 Kansas City, Mo. (PRWEB) November 16, 2011
Grantham University, a 60-year-old institution delivering accredited online degrees to working adult students around the world, is proud to announce that Tom Macon, chairman and CEO of Grantham Education Corporation which is the University's financial sponsor, was honored with the W.E.B. DuBois Award at the 33rd Annual BIG National Training Conference in Boston, Mass.
The Retired Members Chapter (RMC) of BIG annually presents this prestigious award to an individual who exemplifies W.E.B. DuBois' vision of reducing discrimination of African Americans through pursuing a higher education. Past recipients of this award include Colin Powell, former U.S. Secretary of State, and Susan Rice, the U.S. Ambassador to the United Nations.
"W.E.B. DuBois was a champion of civil rights in education and I'm honored to receive this award in his name," Macon said. "At Grantham University, we are proud of our record of inclusion. We strive every day to live out our Constitution's call for us to provide personalized higher education through affordable and professionally relevant degree programs."
Reports recently released by the College Board show that African American students tend to score lower academically than their classmates. Male students tend to fare the worst with reading scores 51 percent below the national average.
Macon has been instrumental in Grantham's efforts to help change this trend with its personalized approach to higher education and its belief that everyone deserves the opportunity to attain a college degree.
Grantham University's accredited online degree programs are flexible and portable, allowing students to fit education into their life instead of arranging life around their education. The University offers a variety of associate, bachelor and master's online degrees in areas such as Business Administration, Business Intelligence, Business Management, Computer Science, Criminal Justice, Engineering Technology, Health Sciences, Human Resource Management, Information Systems Security, and Medical Coding and Billing.
For more information about Grantham University and its degree programs, visit: http://www.grantham.edu or call 800-955-2527.
About BIG:
BIG was organized in 1975 and incorporated as a non-profit organization under the District of Columbia jurisdiction in 1976. BIG has been a national response to the need for African Americans in public service to organize around issues of mutual concern and use their collective strength to confront workplace and community issues.
About Grantham University:
Established in 1951, Grantham University is a private institution that specializes in online education for the working adult student. Its mission is to provide accessible, affordable, professionally relevant online degrees in a continuously changing global society. Grantham University's online undergraduate and graduate degree programs include: Accounting, Business Administration, Criminal Justice, Computer Science, Engineering Technology, Health Sciences, Information Technology, Medical Coding and Billing, Nursing, Human Resource Management and Business Intelligence. Grantham University offers a military scholarship program for active duty, reserve, guard, veterans and military family members, as well as scholarships for law enforcement professionals. Grantham's courses are 100 percent online, allowing students to study at home, at work, on Temporary Duty (TDY) or from almost anywhere in the world. Accredited since 1961 by the Accrediting Commission of the Distance Education and Training Council, Grantham University has compiled a distinguished record as a respected and accredited distance learning university spanning six decades of service to education.
###