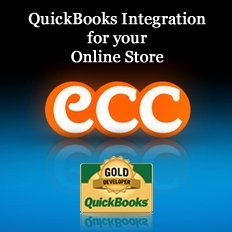 eCC really optimized our business. Since we started using it, we save about $1 per order!
Phoenix, AZ (PRWEB) July 19, 2010
Webgility, a leader in QuickBooks integration solutions for eCommerce, announced today that it has received Intuit's Gold Developer Certification, the highest award for QuickBooks-compatible software developers. To achieve Gold status, Webgility's eCC software successfully passed the requirements of the QuickBooks Technical Review and demonstrated excellent customer satisfaction in an independent 3rd party customer survey. "We're thrilled to be awarded Gold Developer status. This certification affirms the seamless QuickBooks integration provided by eCC, the value it brings to our customers and the quality of support delivered by our team," said Parag Mamnani, CEO and founder of Webgility.
eCommerceConnector (eCC) is a software for eCommerce merchants using QuickBooks to automate order processing, shipping and inventory management. eCC integrates with several online store platforms (e.g., Magento, Virtue Mart, X-Cart), marketplaces (e.g., Amazon, eBay), and shipping carriers and payment processors. With eCC, sellers can eliminate manual data entry, save time and reduce accounting errors . "eCC really optimized our business. We no longer have to enter new customers and type orders in QuickBooks. Since we started using eCC, we save about $1 per order! We recouped our eCC investment within 15 days of using it," said Lorraine McGorry, President and CEO of Energetic Nutrition, Inc.
With eCC's easy-to-use interface, sellers can automatically download online orders into QuickBooks and generate shipping labels with a few simple mouse-clicks. In addition, the inventory module helps keep price and quantity information in-sync. To help customers see the solution firsthand, Webgility offers a 15-day trial with comprehensive technical support, and a series of free webinars on eCC. Sign up for the webinars at http://www.webgility.com/webinars.
About Webgility: Webgility is a Gold Certified QuickBooks developer with offices in the US and India. Webgility develops software for small businesses with a focus on eCommerce, order fulfillment and inventory management. The company's flagship product is eCommerceConnector (eCC), an eCommerce integration application for QuickBooks users. Webgility's management team possesses over 10 years of experience in the eCommerce industry, and has helped hundreds of small businesses successfully launch online stores and streamline business operations through integration software. Visit http://www.webgility.com for more information.
Contact: Webgility Marketing Team at (877) 753-5373 or marketing(at)webgility(dot)com
# # #