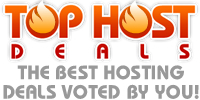 Featured Deal of the Day
Las Vegas, NV (PRWEB) October 3, 2007
Web hosting companies are still growing rapidly due to the ever increasing demand for more affordable solutions. Many new business entrepreneurs have answered this demand by becoming resellers, offering their web hosting services at cheaper rates with hopes to cash in on the internet boom, but leaving very little room for support. With such a frenzy over who to trust, Top Host Deals (THD) was launched to assist modern day business consumers towards discovering a better host. Users can submit their favorite web hosting providers accordingly within different categories and increase their reputation, thus increasing their exposure as well to new customers.
Aside from a consumer's point of view, THD also created this site to provide web hosting companies a simpler solution for internet marketing. This is a much needed service for those interested in marketing their new service plans, especially for new startup companies. "There is always a constant need for affordable web hosting solutions and I believe THD can be of great benefit to both consumers and service providers. There are just so many providers popping up these days on the web, so how do you find them and how can they find you?" reported Nadia Smith, co-founder of THD.
THD is free for all users and allows members to add any number of offers and/or deals they deem worthy. Members can then vote and comment on submitted offers and share their experiences amongst each other. Member tools also include the ability to send and receive short emails, add a deal to their personal favorites, send an offer to a friend and add any deal to their favorite social bookmarking site, such as Yahoo™, Delicious, etc. For web hosting providers, THD also provides increased internet marketing exposure, such as "Featured Deal of the Day" -- which always appears in the top position of the home page.
"In the end, it's all about the best deal... and you can't be a top deal if nobody knows you exist. Top Host Deals is the answer to many web hosting providers who are in need of internet marketing and for consumers who are in need of their services," said Mitchell Smith, co-founder of THD.
THD is a niche site that only lists upcoming offers relating to the web hosting world, such as free web hosting, shared, dedicated, resellers, virtual private servers (VPS) and co-located hosting. And it doesn't stop there, as the community also consists of domain names, secure certificates, add-ons and shopping carts.
"You can be sure that the majority of traffic any site gets from us will be from targeted consumers interested in buying their services... and this is exactly what every site needs. We're just glad to oblige and we're very excited about this new venture," says Nadia Smith.
About the founders:
THD was founded by Nadia and Mitchell Smith, a husband and wife team with much experience in the internet business. Neither of them actually own a web hosting company or are affiliated with any provider. THD is 100% non-affiliated aside from paid sponsored listings. They are both continuing to work hard towards finding the best deals from hosting providers and bringing them to you.
Top Host Deals
tophostdeals.com
###