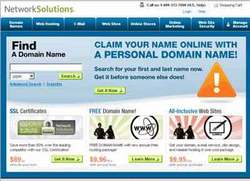 Our overall score was well ahead of the industry standard
Herndon, VA (PRWEB) September 17, 2008
Recognizing the best Web sites in 96 industries, the Web Marketing Association's WebAward is today's premier Web site award program. Yesterday it was announced that Network Solutions®, the leading provider of e-business solutions for small business, has been given the 2008 Outstanding Website Award for its innovative and elegant storefront design.
Competing with 2,400 entries from 45 countries around the world, the Network Solutions storefront site effectively and easily combines the educational and design elements for selling the company's services including Web site hosting, Online Marketing, and Web site design options. The site is easy to navigate, and combines a contemporary yet stylish look. To win the Outstanding Website Award, the site was presented to a panel of three judges assuming the role of target users. After evaluating the site based on seven different judging criteria, the two highest scores were averaged for the final score, which resulted in the Outstanding Website Award going to http://www.networksolutions.com.
"Our overall score was well ahead of the industry standard," said Sophie Shiatis Delpierre, Vice President of Web Sales & Online Marketing for Network Solutions. "Our scores were very high in the areas of content, technology, interactivity and copywriting, which demonstrates that our site achieves its main purpose by providing an excellent experience for our customers."
Now in its twelfth year, the WebAwards is the premier competition gauging the excellence of sites on the Web. To view the award-winning site, visit http://www.NetworkSolutions.com.
About Network Solutions:
Network Solutions, a leading provider of Web solutions and the pioneer of the domain name registration service, offers a full range of Web-related services that includes Web hosting, Web design, e-commerce software, search engine marketing, SSL certificates, e-mail services, and domain name registration. Network Solutions draws on 29 years of experience to make it simple and affordable for customers to build and manage an online presence through a one-stop Web solutions provider. For more information, visit http://www.about.networksolutions.com.
About the Web Marketing Association:
The Web Marketing Association was founded in 1997 to help set a high standard for Internet marketing and development of the best websites on the World Wide Web. Staffed by volunteers, this organization is made up of internet marketing, online advertising, PR, and top web site design professionals who share an interest in improving the quality of online advertising, internet marketing, and website promotion. Producers of the WebAward Competition, the Web Marketing Association is visible online at http://www.webaward.org.
###