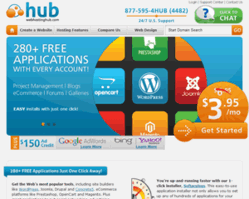 Shared web hosting services from WebHostingHub were selected as best cheap hosting for 2013.
(PRWEB) February 22, 2013
WebHostingHub, an industry leading web host specializing in hosting service for individuals and small businesses, is proudly awarded as best web hosting 2013 from best-cheap-hositng.com.
BCH (http://best-cheap-hosting.com) is operated by a group people with deep knowledge on web hosting. Their mission is to bring webmasters the high quality hosting solutions at an affordable price. After reviewing hundreds of web hosting solutions, BCH announced today the winners of their 2013 Best web hosting award, in which WebHostingHub is recognized as best cheap hosting in 2013.
WebHostingHub is well-known for providing high quality hosting service at affordable price. Its award-winning Linux web hosting comes with rich features to help people create web site quickly and easily. It is perfect for individuals, bloggers, web developers and small business.
Its award-winning hosting solution is back up with 90 days full money back and 100% customer satisfaction guarantee. With low to $3.95/month, people will receive rich features like free domain, dual version PHP, MySQL, mod_rewrite, and more. WebHostingHub offers hosting service by using multiple data centers so that its customers could gain much better access speed than its competitors.
And according to the 260+ customer reviews collected by HostUCan.com, the overall scores of WebHostingHub is at high 4.6 out of 5.
In terms of price, by following this special webHostingHub $3.95 promotion link, all WebHostingHub customers could receive 44% off , after which the price is $3.95/month only. And people should feel risk-free as WebHostingHub guarantees Anytime Money Back, with which people can receive a prorated refund at anytime they cancel the account.
To know more about WebHostingHub, please see how BCH editors talk about it at http://best-cheap-hosting.com/webhostinghub-review/.