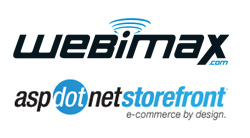 Our partnership with WebiMax joins two industry leaders and helps us enhance our products by adding additional SEO technologies to our state-of-the-art e-commerce platform
Mount Laurel, NJ (PRWEB) January 16, 2012
Kenneth C. Wisnefski, founder and CEO of WebiMax is pleased to announce that the company has entered in to a strategic partnership with AspDotNetStorefront, a leading e-commerce shopping cart platform.
Officially launched in 1997, AspDotNetStoreFront is utilized by more than 10,000 users. The strength of the platform is that it is filled with many components that clients need, including plug-ins, built-in search engine optimization, promotion and marketing tools, and the flexibility and stability of the .NET platform.
"AspDotNetStorefront gives their clients many competitive advantages, not least of which is the fact that the e-commerce shopping cart platform is search engine optimization friendly, an area in which WebiMax is the market leader," states Wisnefski. "Natural search plays a critical role in the e-commerce space and this partnership helps both parties join forces on their strengths to deliver a highly valued product that can help increase revenue for retailers using the platform itself," concludes Wisnefski.
"Our partnership with WebiMax joins two industry leaders and helps us enhance our products by adding additional SEO technologies to our state-of-the-art e-commerce platform," states Dana Greaves, CEO and President of Vortx, Inc. and AspDotNetStorefront. "Our innovating products have helped major retailers and Fortune 100 companies successfully execute e-commerce initiatives and we continue to be positioned as our industry leader," concludes Greaves.
About WebiMax:
Led by serial web entrepreneur Ken Wisnefski, WebiMax has established themselves as a global leader in SEO services, E-commerce solutions, social media, web design, pay-per-click management and reputation management. The company is projected to gross $15 million in revenue this year. They have over 150 employees and 12 offices including 8 U.S. based, and 4 International. Visit http://www.webimax.com/ for more information.
###