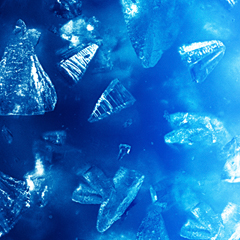 Experiments using this methodology enabled a significant increase in production volume on lab-scale equipment.
(PRWEB) April 14, 2014
METTLER TOLEDO is pleased to present a new installment in its thought-leading on-demand webinar series on Process Analytical Technology (PAT). The presentation, entitled "PAT-Based Design of Continuous Crystallizations," explores specific methodology using ParticleTrack with Focused Beam Reflectance Measurement (FBRM) technology and related technologies for rapid plug-flow crystallization evaluation. Experiments using this methodology enabled a significant increase in production volume on lab-scale equipment.
Guest presenter Steven Ferguson, Biogen Idec, Cambridge, Massachusetts, developed the experiment series while working on his PhD as part of the Glennon Research Group (SSPC) at University College, Dublin. He also spent time at Novartis/ MIT Center for Continuous Manufacturing and Department of Chemical Engineering, as a post-doctoral associate with a focus on continuous crystallization, isolation and polymorphism.
A plug flow crystallization platform was developed that allowed PAT to be applied in situ via the use of novel flow cells to develop the anti-solvent crystallization of benzoic acid from aqueous ethanol solution. Equivalent tank-based MSMPR crystallizations using a pneumatic slurry transfer were also characterized using PAT. Both methods were then compared to equivalent batch crystallizations to gain their true performance measure.
As expected, continuous crystallization offered significantly intensified production, with approximately the same material generated by ~33 ml plug flow, 9 L MSMPR, and 42, 10,000 L batch crystallizations per annum. Furthermore, non-batch processing enabled production of a wider range of particle sizes and morphologies, with plug flow generating the highest possible supersaturation when feed and anti-solvent streams were perfectly mixed.
Despite its relatively small volume, under optimum conditions the plug flow device proved capable of producing 60 kilos a day of dry, isolated benzoic acid, providing production-scale pharmaceutical development with lab-scale equipment. Screening methodologies to determine if plug flow crystallization is appropriate for a particular chemistry is also explored, as is using FBRM and Particle Vision Microscopy (PVM) to monitor and maximize operating conditions.
For research details, as well as to explore the use of PAT in situ to reduce process development time and control continuous industrial crystallization, please view the 25-minute presentation today at: http://www.mt.com/pat-continuous-crystallization.
About METTLER TOLEDO
METTLER TOLEDO provides the enabling technology, software and people that can help build a seamless workflow to translate bench scale chemistry into a commercial process. For more than 20 years, our enabling tools and services have been a strategic resource providing critical information for thousands of development scientists and engineers. Companies have used that knowledge to accelerate the discovery, development and scale-up of new chemical processes spanning the chemical and biopharmaceutical industries. For more, visit http://www.mt.com.