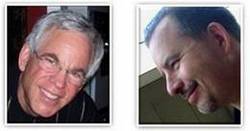 The Business Value of Informational Webinars
Sacramento, CA and Albany, NY (PRWEB) July 28, 2009
WebAttract was formed by Mike Agron and Bret Smith, with a combined 60 years of "real world" business "chops" in global sales, alliances and business development while working at top technology firms like Apple, Oracle, MapInfo and deCarta. WebAttract's differentiating approach generates fresh new sales leads, increased brand awareness and enhanced thought leadership within a "turn key" solution.
The WebAttract solution includes:

Audience recruitment of 50k contacts to webinar, offer matched,
Rich content, developed in full collaboration with you,
Impactful presentation with a professional producer managing the entire event,
Industrial%u2010strength platform with high definition audio for 1000 concurrent viewers
Insightful metrics throughout process, full reporting at wrap up,
Post show conversion of attendees to sales opportunities, and more.
As Brett Owens, CEO and Co Founder of California based Chrometa, the software developer of innovative time capture tools for attorneys and professionals : "Our webinar was simply outstanding for generating new leads, closing sales, and establishing our thought leadership within our target market. WebAttract delivered a fantastic experience and product - we had nearly 200 attendees, a sky high 60% attendance rate, and great feedback from the audience afterwards. These webinars are now a key cornerstone of our sales and marketing efforts - which says a lot, since we are a boot strapped startup that cannot afford to invest in activities that do not have an immediate ROI."
Read other testimonials from Microsoft, Oracle, TeleAtlas and more.
Click here to see & hear Mike Agron discuss the WebAttract Solution. Prefer a direct conversation with WebAttract executives? Contact us at 866.467.0003 or webattract.com .
WebAttract will present "The Business Value of Informational Webinars" on Wednesday, August 5th, 11:00am to Noon PDT. Register at https://www2.gotomeeting.com/register/573688442 .
About WebAttract the Company
WebAttract is a leading Webinar Demand Creation firm delivering fresh new sales leads, increased brand awareness and enhanced thought leadership within a "turn key" solution. Our proprietary audience recruitment approach converges traditional subscription based contact data with social media, resulting in considerably larger, more accurate target lists. For our archive of best practices videos, go to webattract.com/pages/videos.shtml.
Founded in 2009, WebAttract is headquartered in both New York and California. Our customers range from venture capital backed start ups to Fortune 500 companies.
###