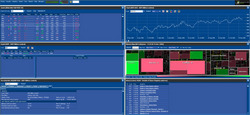 we understand the needs of professional traders and are committed to providing our clients with a broad range of global DMA CFDs, the latest trading technology and the lowest DMA CFD commission rates
(PRWEB) September 8, 2010
webIRESS Plus is the latest online trading platform to be released by Australian financial markets technology giant IRESS Market technology. The new webIRESS Plus platform is based on the architecture of the latest version of the IRESS order system (IOS), IOS Plus. The software architecture of IOS Plus provides traders using the webIRESS Plus platform with the ability to trade on multiple exchanges and dark liquidity pools in addition to offering superior order transmission speeds. The platform is well suited to high frequency day traders and scalpers.
International Capital Markets (IC Markets) Managing Director Andrew Budzinski said: "Our goal has always been to be at the cutting edge in CFD trading technology, we are delighted to be offering the industry's fastest web based trading platform to CFD traders in Australia".
"We understand the needs of professional traders and are committed to providing our clients with a broad range of global DMA CFDs, the latest trading technology and the lowest DMA CFD commission rates".
webIRESS Plus will be made available to all IC Markets live clients and can be accessed directly from their website. webIRESS Plus will allow IC Markets clients to trade DMA CFDs on global exchanges as well as ASX listed shares.
IC Markets clients have the ability to trade CFDs on multiple platforms online, over the phone or via mobile devices including the iPhone. IC Markets also provides education and training, with programs specifically tailored to assist both novice and professional traders understand financial markets and the industry leading trading platforms they have at their disposal.
"IC Markets is committed to offering our client's technology that enables them to gain an edge in the market. We are thrilled to be able to add the webIRESS Plus platform to our suite of trading platforms. This reflects our commitment to provide industry leading software and outstanding value for money." Mr Budzinski said.
A Contract for Difference (CFD) is an agreement to exchange the difference in value of a particular asset between the time at which a contract is opened and the time at which it is closed.
About International Capital Markets (IC Markets)
IC Markets specialises in share and derivative trading offering Contracts for Difference (CFDs) over thousands of global equities, commodities, options and indices in addition to forex trading via multiple on-line platforms. IC Markets is headquartered in Sydney and has clients worldwide. For additional information please call +61 2 8014 4280.
###