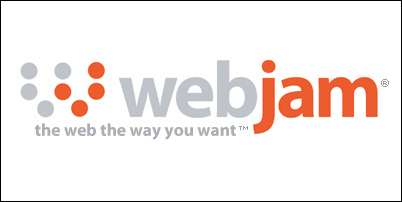 Webjam pushes the boundaries of social media. Its unique replication and participation features allow anyone to participate in online communities, blurring the lines between viewers and publishers
London, UK; Paris, France (PRWEB) April 3, 2007
Webjam, a London-based internet start-up founded in 2006 by former Yahoo! employees, announced that it has raised £1 million (2 million USD) in first-round funding from French early stage venture capital firm I-Source Gestion. Webjam will use the funds for product development and international expansion across Europe and the US, joining the ranks of European start-ups with a global ambition.
Offering 'the Web the Way you Want®', Webjam enables users to easily create their online presence in a fully personalised way. With powerful community features, an easy drag-and-drop interface and a rich catalogue of modules and styles, Webjam makes publishing and sharing really simple. In a single place, users can pull together familiar functionalities such as blogs, photos, message boards, news feeds or maps, and combine them in their preferred layout. A whole page or a given module can be made public, private, or restricted to a particular community. Page layouts, contents and modules are replicable, so that users can build their own page by leveraging on what the community does best.
Webjam already picked the interest of notorious bloggers when it launched in a private beta in November last year: it has been featured by influential technology blogs Techcrunch and Mashable, and leading online media sites such as ZDNet or the French Journal du Net.
Thanks to the versatility of the platform, the uses for Webjam are endless. "We envisioned Webjam as an ideal eco-system for local communities, media creators and small businesses" explains Yann Motte, co-founder and CEO. "It is fascinating to discover what our users create on Webjam: a private notebook, a professional blog, a personal news page, a cartoonist's portfolio, or even a collaborative space for Guidejam, a group of London tourist guides!"
"Webjam is a platform for creativity, an invitation for people to easily shape and share the Web in exciting ways" says Alberto Barreiro, co-founder and Chief Product Officer. He and co-founder Marcus Greenwood nurtured the idea of an innovative community platform when designing a website for their local residents association in London's Bermondsey. Together with Yann Motte, they have matured the concept and launched the project as a private beta in November 2006, then as a public beta in February 2007.
"Webjam pushes the boundaries of social media. Its unique replication and participation features allow anyone to participate in online communities, blurring the lines between viewers and publishers" say Eric Harlé, Managing Partner and Yvan-Michel Ehkirch of I-Source Gestion.
About Webjam
Founded in 2006 by a British, a Spanish and a French entrepreneur in London, UK, Webjam aims at empowering individuals and communities to create, aggregate and share content online. Webjam differentiates itself by bundling powerful community features with an easy drag-and-drop interface, a rich catalogue of modules and styles and a unique feature to replicate contents and styles from the community. With investment support from I-Source Gestion, Webjam is set to bring a disruptive approach to media publishing through its three pillar principles of replication, reputation and relevance. For more information about 'the Web the Way you Want®', visit http://www.webjam.com.
About I-Source Gestion
I-Source Gestion is a Venture Capital firm dedicated to early stage financing of high growth potential ventures, coming from either public or private research, and in the areas of Information Technologies and Telecommunications. I-Source Gestion manages six funds totalling an amount of around €160 million and has invested in more than 50 portfolio companies. For more information, visit http://www.isourcegestion.fr.
CONTACT INFORMATION
Webjam Ltd
Sonia Kalfon
Phone: +44 791 920 6145 or +44 203 170 8741
http://www.webjam.com
I-Source Gestion
Aurélie Ouanson
Phone: +33 1 39 23 02 00
http://www.isourcegestion.fr
###