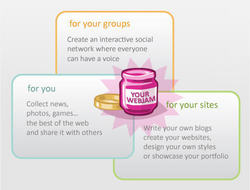 the place for you, your groups, your sites
London, UK (PRWEB) December 21, 2007
Webjam, the place for you, your groups and your sites, has won one of the UK's most auspicious awards for internet companies, the .net People's Choice Award. Judged by readers of the magazine, Webjam was awarded the title 'New Site of the Year', seeing off hundreds of other sites to take the prestigious award.
Readers of .net nominated the most innovative websites and technologies they had come across throughout the past year, with the most popular making a shortlist which was voted on by the thousands of visitors to the .net website. After three months of voting, Webjam came out the clear winner.
Yann Motte, Co-founder and CEO of Webjam comments, "To be recognised by the British public as the most exciting new site of the year is a great honour, and clear recognition that people love Webjam's innovative take on social publishing. Webjam is the first site to allow any individual, organisation or corporation to manage their web presence, from the content they share to the groups they interact with, and has clearly struck a chord with internet users". "But we won't stop here. Webjam is continuing to evolve and make it even easier for people to shape and share the web in new and exciting ways whilst bringing together all the aspects of their digital life in a single space."
Webjam offers easy-to-use but powerful social publishing tools, giving users the ultimate in personalisation and customising. By being able to choose the exact look and layout users want, groups, personal pages or sites are brought to life, and applications like MP3s and RSS feeds are pieced together using simple drag and drop options. The result is the creation of their ideal Webjam to share with others in minutes.
About Webjam:
Webjam provides individuals and organisations with a free and flexible platform to create a relevant and personalised web presence.
Founded in 2006 by a British, a Spanish and a French entrepreneur in London, UK, Webjam differentiates itself by bundling powerful community features with an easy drag-and-drop interface, a rich catalogue of modules and styles and a unique feature to replicate contents, applications and lay-outs. Users are able to piece together their perfect online community, taking feeds from major services including Flickr, Google YouTube, Amazon and Gmail. Available to everyone regardless of technical skills, Webjam allows anyone to share their creations and learn from others.
Webjam was recently voted the .net people's choice award winner, and has been touted as an alternative to Facebook by BBC News Online.
For more information about "the place for you, your groups, your sites", visit http://www.webjam.com.
With investment support from I-Source Gestion, Webjam is set to bring a disruptive approach to online presence management through its three pillar principles of replication, reputation and relevance. For more information about "the place for you, your groups, your sites", visit webjam.com.
Contact Information:
Peter Bowles
Hotwire
+44 20 7608 4649
Sonia Kalfon
Webjam Ltd
+44 20 3170 8741
# # #