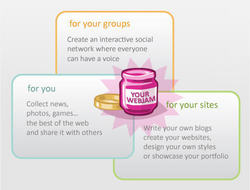 the place for you, your groups, your sites
London, UK (PRWEB) January 29, 2008
Webjam, the place for you, your groups and your sites, today announced the new and improved Strawberry release, offering the most powerful social publishing tools yet. Users can now create and share blogs, groups and websites faster then ever. With added privacy settings and customised profiles, users can show just what they want, to who they want, how they want, and finally give a sense of purpose to their online connections.
Jam packed with new features, Webjam offers users more control than ever. Users can change the way a webjam looks by simply dragging and dropping items on the page to get it just right. The addition of a new style editor gives users the ultimate in customisation options, allowing easy modification to every part of a webjam to get just the right flavour. It is now possible to change background, header, fonts and even more in just one click with instant updates, so that a webjam matches someone's purpose as well as personality.
Users can easily spread their webjam even further with simplified invitations so non-members don't need to have a full profile to contribute. Users can stir in their favourite clips from Flickr, YouTube, Amazon search, Google Maps or BBC News to get the mix just right, then share the fruits of their labour with friends, family or co-workers.
Other tasty features include:

Increased privacy through the option of a mini profile which shows just what the users want to, and to whom they want, so that the nformation owner is always in control.
Friends and Members module that lets online users interact with the relevant communities around them.
Upgraded Photo module with a new photo uploading tool to streamline the process. Users also have the option to add comments to them or set-up a message board to talk about them.
Interactive Bulletin board for the community.
Revamped Poll module that gives community managers an easy and quick option to poll a group about various topics.
Yann Motte, Co-founder and CEO of Webjam comments: "The Strawberry release makes Webjam the solution of choice for local communities, interest groups, charities, fan clubs or families who want to easily connect online and share content in a controlled, safe environment"
Webjam is the next generation tool in social publishing, allowing any individual, organisation or corporation to give a sense of purpose to their online connections and manage their web presence, from the content they share to the groups they interact with. Whether you want to manage a private book club, publicly share your passion for your local football team, or contribute to an education project, there's a Webjam for you.
About Webjam:
Webjam provides individuals and organisations with a free and flexible platform to create a relevant and personalised web presence.
Founded in 2006 by a British, a Spanish and a French entrepreneur in London, UK, Webjam differentiates itself by bundling powerful community features with an easy drag-and-drop interface, a rich catalogue of modules and styles and a unique feature to replicate contents, applications and lay-outs. Users are able to piece together their perfect online community, taking feeds from major services including Flickr, Google YouTube, Amazon and Gmail. Available to everyone regardless of technical skills, Webjam allows anyone to share their creations and learn from others.
Webjam was recently voted the .net people's choice award winner, and has been touted as an alternative to Facebook by BBC News Online. For more information about "the place for you, your groups, your sites", visit webjam.com.
Contact Information:
Peter Bowles
Hotwire
+44 20 7608 4649
Sonia Kalfon
Webjam Ltd
+44 20 3170 8741
###