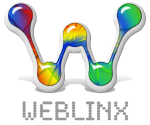 We strive to ensure each client has the best possible chance of appearing on page 1 for their chosen keywords and/or phrases.
Blackburn, Lancashire (PRWEB UK) 17 April 2013
Weblinx Ltd is proud to announce the arrival of the firm's all-new and radically optimised website, which can now be found at the new address of http://www.weblinxlimited.com/. Having already made a name for itself over the course of its time in business, Weblinx is well on course to take its operations to new heights in 2013 and beyond.
The new website went live this week and serves as a testament to the company's ongoing dedication to continual improvement and refinement to its services. With SEO growing in importance and complexity by the day, Weblinx is hoping to win over more high-profile clients in the coming months with its unique approach to 21st century online marketing.
White Hat SEO, Enviable Client List
"We strive to ensure each client has the best possible chance of appearing on page 1 for their chosen keywords and/or phrases using the latest white hat SEO techniques. We work with SME's and blue chip clients catering for various industries. Whether you are looking to target a few keywords or thousands of keywords, we will work with you to help you target the best keywords for your industry to help improve the amount of traffic to your website." – Weblinx
The team at Weblinx champions only 100% white-hat and hard-fought SEO services, which achieve results through dedication and expertise as opposed to forced or spam techniques. It is this dedication that has attracted a myriad of prestigious clients from across the UK, who personally vouch for everything Weblinx stands for.
Regardless of the size or complexity of the job, the Weblinx team promises to deliver.
For the Long-Haul
"Search engine optimization isn't a one-time procedure, it needs to be maintained frequently to keep the positions you have achieved, which is where we come in. We know that once your website achieves page one positioning for your chosen keywords there is more work to be done, which is why we have a number of clients who have stuck with us over the years their website has been optimised." - Weblinx
SEO in today's complex marketplace cannot be left to its own device – it must be monitored, nurtured and tweaked with astonishing regularity in order to yield results. That's exactly why Weblinx doesn't deal in quick-fix results or one-off nudges, but instead the kind of long-term contracts that illustrate their ongoing dedication to the success of their clients' businesses.
Award Winning SEO
"It is important in this industry, for an SEO specialist to have a forward-thinking and innovative mind which is why Weblinx are always looking for new techniques to improve search engine positions." – Weblinx
By constantly championing new initiatives and taking clients to places that would otherwise have been out of reach, Weblinx has scooped up an arsenal of industry awards over the years and today sets the bar by which all others are measured. The team takes pride in approaching SEO differently and thus being able to achieve where all other fall short of the mark.
About Weblinx Ltd
Founded in 2004, Weblinx is made up of a team of elite Internet marketing and SEO professionals with the tools, experience, drive and passion required to send online businesses to the next level and beyond. The winner of several coveted industry awards, Weblinx differentiates itself from the masses by offering a simple, affordable and transparent service where all parties are kept right in the thick of things at all times. More information can be found at http://www.weblinxlimited.com/.