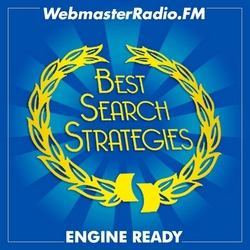 Fort Lauderdale, FL (PRWEB) July 21, 2010
WebmasterRadio.FM, the premier free, 24/7 Internet business radio network focused on the B2B marketplace, is pleased to announce that Engine Ready has expanded the widely successful "Best Search Strategies" to a weekly format, every Wednesday at 5pm Eastern and 2pm Pacific beginning Wednesday July 21st.
Hosts Engine Ready President and CEO Jamie Smith and Vice President of Marketing Brian Lewis welcome company head of business development Brad Merkel as a new co-host.
The weekly version of the series helps listeners discover the latest tips for increasing your return on investment (ROI) using Google Analytics. For the July 28th episode, the show will feature 13 must-know PPC management tactics you need to employ to setup and run a profitable campaign.
"Best Search Strategies" debuted as a series of monthly specials on July 28, 2009. Previous episodes featured topics based upon a series of reports from the Engine Ready research team. The weekly series will expand to include interviews with industry leaders but will continue to help search marketers increase conversion and lower ad costs.
Listeners are able to interact with their questions and comments to the host and guests for each interviews, as well as all live WebmasterRadio.FM programming, by:

Following us on Twitter @webmasterradio
Becoming a member of the WebmasterRadio.FM Facebook page or…
Log in to our live 24-hour real-time chatroom monitored by our show hosts at http://www.webmasterradio.fm/chat.
New episodes of "Best Search Strategies" air every Wednesday at 5pm Eastern / 2pm Pacific Episodes are archived exclusively on WebmasterRadio.FM, the world's largest online B2B Radio Network. This program, as well as all WebmasterRadio.FM podcasts, is available on iTunes. Additional information on this program can be found at http://www.bestsearchstrategies.com.
About WebmasterRadio.FM
WebmasterRadio.FM lifts the "veiled curtain" of the Internet, bringing the business community together through an interactive radio network. Its listeners are a global group, comprised of everyone from corporate executives and decision makers to small and mid-sized businesses and individual entrepreneurs. WebmasterRadio.FM's stellar line-up of radio programming includes "CoverStory" with Jiyan Wei of PRWeb, WebmasterRadio.FM's official newswire; "Market Edge" with W2/Racepoint Group Chairman Larry Weber; "SEM Synergy" with Search Engine Marketing Industry Leader Bruce Clay, "The Joel Comm Show" with New York Times bestelling author and serial entrepreneur Joel Comm and more. To tune into WebmasterRadio.FM's live content or check out the show lineup, please visit http://www.WebmasterRadio.FM .
Media Contact:
Brandy Shapiro-Babin
954-309-5578
About Engine Ready, Inc.
Engine Ready, Inc. is a top tier provider of online marketing services and software, helping organizations achieve unparalleled success on their web initiatives. Managing paid search accounts in excess of 15 million keywords, and over $8.1 million in annual media spending, Engine Ready was the first organization to combine the power of website analytics with search marketing. More information can be found at http://www.engineready.com .
###