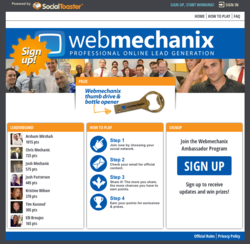 Partnerships like this show the power of making friends and developing real relationships.
Baltimore, MD (PRWEB) October 31, 2012
Two budding DC-area digital marketing firms announced a partnership that was sparked (ironically) through good ole' fashioned face-to-face social networking. WebMechanix, a full-service inbound agency specializing in search engine marketing, social media & conversion optimization, has teamed with neighboring SocialToaster, a social media software company that helps clients maximize their reach through social networks.
The full terms of the deal were not disclosed, but it centers around a barter agreement. SocialToaster is providing WebMechanix with premium access to their platform, and strategic consulting. In exchange, WebMechanix is consulting with SocialToaster on digital lead generation through SEO/SEM.
WebMechanix Co-founder Arsham Mirshah describes the partnership as a complete win-win relationship, saying, "We are each using our core competencies to push each other's companies to the next level. While we're busy bolstering SocialToaster's presence in the search engines, they're busy bolstering our presence through advanced social networking strategies.
It's truly a win-win for both of us, and demonstrates the true snowballing ROI of networking and relationship building with local innovators."
Mirshah and SocialToaster CMO Walt Rampata were introduced via a mutual colleague, Nichole Kelly, President at SME Digital.
There's a buzz around the WebMechanix office around the concept of delivering what they refer to as "Snowballing ROI"— a return on investment that grows bigger and bigger over time, like a snowball rolling down a hill.
This new partnership between WebMechanix and SocialToaster is the epitome of this concept, as both companies will be exposed to more leads and potential clients than ever before.
Says Mirshah, "Always remember that you can assign real value to each relationship and connection you build through business and personal life. Partnerships like this show the power of making friends and developing real relationships. The results may not show their face at first, but that's snowballing ROI for you. Eventually they will be huge!"
About WebMechanix
WebMechanix is a leading SEO and inbound marketing company based out of Columbia, Maryland. They focus on providing tangible results using innovative techniques that lead to a significant increase in organic lead generation for B2B and B2C clients in the Maryland, DC and Virginia areas.
Heavily involved in regional tech organizations, WebMechanix takes pride in the relationships it builds with local industry leaders, and is open to strategic and mutually beneficial partnerships that benefit all companies involved. Contact them today to learn how they can help you.