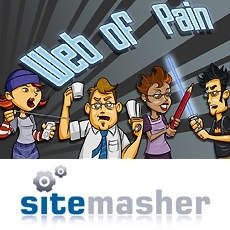 We wanted to make solving website pain pertinent yet fun. Most people can relate to the pain around building or owning websites, so we wanted to make those pains come to life through our characters.
Vancouver, BC (PRWEB) June 26, 2008
- Sitemasher takes a novel approach in debunking the myth that building and managing websites has to be painful by spoofing traditional methods in its comic strip "Web of Pain," officially launched this week.
Meet Sam, Ned, Vinny and Zoe, four characters who are in constant conflict trying to get websites built, running, and updated … yesterday! ... replicating an all-too-common scenario that plays itself out in companies worldwide on a regular basis.
When he began formulating the idea for the Vancouver start-up company, Phil Calvin, chief technical officer, decided that implementing and owning a website shouldn't have to be so hard, and he set out to solve that dilemma with the Sitemasher product.
The comic strip is a way of addressing common frustrations website designers, developers, and owners experience as they spend days, weeks, months, and in some cases years building and maintaining websites. The characters of "Web of Pain" embody the day-to-day obstacles that occur when building and managing websites.
"Through our 'Web of Pain' characters, we try to convey the pain of all the individuals involved in the website lifecycle….from the website builder struggling to produce better websites faster and less expensively to website owners trying get the most of their IT investment," said Ron Moravek, chief executive officer.
Sitemasher will be updated with new comic strips biweekly with the intent of not only giving people a chuckle when they identify with the four stereotypical characters, but also driving potential customers to Sitemasher's website to try the pre-release version of Sitemasher or simply sign up to receive future comic strips.
Asked why Sitemasher went with a subtle marketing approach versus a more traditional style, Nicole Denil, vice president of Sales and Marketing commented, "We wanted to make solving website pain pertinent yet fun. Most people can relate to the pain around building or owning websites, so we wanted to make those pains come to life through our characters."
This subtle marketing method has caught on. Microsoft and IBM have taken similar approaches, with their focus less on technology and more on the people who use the products. "With the landscape changing on how people engage in technology, more decision-making power lies in the hands of the people who actually use the software," Denil said. "Not only does our cast of characters act in the strip, but they are now part of the Sitemasher crew … we consult with their personas even while we build our product."
The comic feed has different ways for the user to subscribe; via an RSS feed, a comic widget that is embeddable into multiple platforms such as MySpace, Blogger, TypePad, WordPress, iGoogle, LiveJournal, Tagged, Multiply, Freewebs, Netvibes or a widget available via Facebook's application directory.
Sitemasher is asking readers to submit real-life web pain stories that could be used for future episodes and they can win prizes.
To view or sign up to receive the "Web of Pain" comic, visit http://www.sitemasher.com/comic/.
The comic strip launch closely follows Sitemasher being chosen by Microsoft for its Blue Sky Innovation, which recognizes leading innovation developed on a Microsoft-based platform. Sitemasher was elected from more than 100 submissions by independent software vendors (ISV) across the country, recognized for its unique SaaS-based delivery model, broad market appeal and its integrated web offering. ISVs were judged on the unique use of technology, the real-life challenge they are solving and the market potential.
About Sitemasher
Established in 2007, Sitemasher is a SaaS-based platform for building, managing, and optimizing sophisticated websites. Phil Calvin, chief technical officer, began developing Sitemasher in 2005. He was intent on transcending traditional website building platforms and Web content management system (CMS) solutions by providing an integrated, search-engine friendly platform to address the entire website lifecycle. Ron Moravek, chief executive officer, joined the new corporation in August 2007 along with Curtis Terry, chief financial officer and chief operating officer for Sitemasher, both from Electronic Arts, Canada. Eric Dorgelo, vice president of development, joined the team from Rockwell. Nicole Denil joined Sitemasher from Microsoft Corporation. Eric Carlson became the sole venture capitalist and partner in December.
###