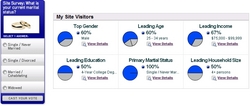 Our goal with Power Polls is to make web polling as engaging and easy as possible.
San Francisco, CA (PRWEB) January 23, 2008
Vizu Corporation (http://www.Vizu.com), the Internet's first self-serve market research network, today introduced Power Polls, the latest way for websites to engage visitors and learn from them.
The Power Polls robust product suite consists of four integrated polling applications: Demographic Polls, My Polls, Content Polls, and Research Polls. To use Power Polls, websites create one "Poll Zone" and select 1-4 types of remotely controlled polls to appear in that zone. These polls fulfill a number of important functions for web publishers:

Understand visitor demographics. Demographic Polls automatically characterize a website's audience and deliver a dashboard view of who is visiting the site based on the most valuable demographic measures. Great for improving content relevance and selling advertising.
Collect visitor feedback. For websites that regularly poll their audiences, My Polls is the easiest solution available. Instead of pasting code for each new poll, My Polls enables publishers to create one customized "Poll Zone," then remotely rotate content as needed.
Provide fresh content. For publishers who are looking to increase return visits and reader engagement, but don't want to create their own web polls, Content Polls will automatically serve relevant, professionally produced polls to their sites.
Monetize websites. Web publishers can make money by hosting 3rd party Research Polls which engage readers, but don't take them off the website like ads do.
"The data from the thousands of websites using Vizu polls showed us that many websites are using web polls for similar purposes. With Power Polls, we automate many of those activities for our users to save them time and share best practices," said Dan Beltramo, CEO of Vizu. "Our goal with Power Polls is to make web polling as engaging and easy as possible."
Power Polls adds interactivity and provides an opportunity for two-way dialogue on websites. The polls do not require site visitors to leave the participating web site in order to complete their polls. Web publishers have direct access to the metric data that is collected by the Demographic Polls and to the entire library of custom My Polls that they have created.
Here's what prominent users have to say about Vizu Power Polls:
"The data gathered from Vizu's Demographic Polls helps us understand Salon.com's visitors better and deliver more value to our advertisers. By using Vizu, we are able to quantify the demographic profiles of the various sections of our site so our advertisers more effectively reach their target audiences."
-- Chris Neimeth, CEO, Salon
"Vizu's Power Polls provide an excellent interactive feature where my readers can express and compare opinions. They love it and when it was taken off for a redesign, they complained. Vizu Power Polls are reliable and very easy to use. I've never had to do a thing since I put the code on my site months ago."
-- John C. Dvorak, writer for PC Magazine, MarketWatch, and Dvorak.Org.
"At OKCupid.com, the consumer experience is our top priority and we are always looking for new ways to engage our users. Vizu's fully customizable web polls blend seamlessly into our site and give our users entertaining content while also helping us generate revenue and grow as a business."
-- Sam Yagan, CEO, OkCupid
Power Polls is currently available for free during a limited trial basis.
About Vizu
Vizu is the Internet's first self-serve market research network. The company combines an easy-to-use polling platform with a diverse network of websites to enable fast, affordable market research. Vizu also provides interactive content for websites through its web polls and Power Polls widgets. Vizu users include Glamour, Orbitz, Sephora, Jobster, Popstar! Magazine, Cozi, Second Life, TeeBeeDee, TripWiser and is the polling partner for all Wetpaint Wikis.
Headquartered in San Francisco, California, the company is privately held with funding from Draper Fisher Jurvetson, Bill Hambrecht, Esther Dyson and Ron Conway. To learn more about Vizu, please visit http://www.Vizu.com.
###