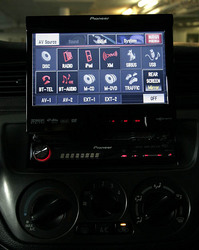 Automobile accident statistics show that using a handheld phone while driving is a major distraction and a huge safety issue.
Culver City, California (PRWEB) June 16, 2008
Californians are the next set of drivers to eliminate the use of handheld cell phones in the car. On July 1, 2008 a new law prohibiting the use of wireless telephones and PDAs while operating a motor vehicle takes effect statewide. California joins New York, Connecticut, New Jersey, Washington, the Virgin Islands and Washington D.C. in enforcing jurisdiction-wide cell phone bans.
Car enthusiast website, WebRidesTV.com, encourages the use of hands-free devices that comply with cell phone bans by initiating an online video contest featuring hands-free technology.
California Governor Arnold Schwarzenegger stated at the signing ceremony of the new law, "You don't have to stop talking on your cell phone, but use a headset or use a speaker system, and you will be fine."
Under the new law it is legal to make hands-free phone calls in the car using Bluetooth or the speaker phone function.
Lieutenant Ronald Iizuek of the Culver City Police Department in Culver City, California states, "Automobile accident statistics show that using a handheld phone while driving is a major distraction and a huge safety issue."
Lieutenant Iizuek asserts that text messaging and dialing are common distractions for drivers and increase the risk of automobile accidents.
The National Highway Traffic Safety Administration (NHTSA 2006) cites that the risk of accident increases by 180 percent when dialing a cell phone.
New technologies and products now feature capabilities aimed at keeping the driver's eyes on the road, such as Bluetooth and text to speech functionality.
Recent automotive news describes the new Pioneer AVIC-F series as taking the communication functionality of GPS navigation a few steps further by offering an advanced conversational voice recognition system.
Unlike systems that require the speaker to say a precise command, the Pioneer Voice Control system responds to conversational and slang speech. A combination of the convenient Voice Control system and Bluetooth technology allows drivers to make phone calls, switch between media options and receive clear driving directions with more ease and control.
"Cell phone bans happening across the country are forcing manufacturers to come up with better, safer and more efficient products. WebRidesTV actively promotes safety in pointing out that at any speed your reaction time determines whether or not you get into a car crash. Additionally we have launched a "Hands Off Month" to promote hands-free auto-related devices by conducting a user submitted video contest that asks entrants to create a 15-30 second viral video about Bluetooth technology," said Larry Harvey Technical Editor at WebRidesTV.com.
About WebRidesTV.com:
WebRidesTV.com is a popular community for car enthusiasts. Headquartered in Culver City, California WebRidesTV.com cultivates car videos amidst the thriving backdrop of the Southern California auto scene. While the coverage and reach of WebRidesTV.com is worldwide, it is the Southern California vibe that drives the website's growing popularity. For more information, please visit the car community at WebRidesTV.com.
# # #