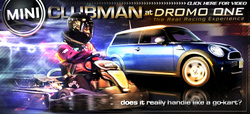 Do the claims made by the manufacturer for that vehicle measure up
Culver City, CA (PRWEB) July 21, 2008
WebRidesTV releases new "Profiled"* video featuring a review of the 2008 MINI Cooper S Clubman. The MINI Cooper is a pop culture icon appearing in feature films and video games as a perky, quick maneuvering getaway car. Reviews of the MINI Clubman have touted it as a premium compact car that is hazardously fun to drive, with similar handling to rollerblading and go-kart driving.
In the latest "Profiled"* video, WebRidesTV evaluates the MINI Cooper's claimed "fun factor" and raises the question, "Do the claims made by the manufacturer for that vehicle measure up"?
BMW asserts that the MINI's "classic bulldog stance" gives it a thrilling "go-kart feel". WebRidesTV tests the validity of BMW's claim, and pits the Clubman against a custom-built Stratos go-kart on the indoor, 1000ft Dromo 1 go-kart track.
The driver's lap times and overall driving experiences will reveal once and for all whether or not the Mini Cooper is as fun to drive as a go-kart.
WebRidesTV's latest "Profiled" video on the 2008 MINI Cooper S Clubman is now available to view at WebRidesTV.
*"Profiled" is an original WebRidesTV program that conducts in-depth car reviews in broadcast quality video.
About WebRidesTV:
WebRidesTV is a Web destination for auto enthusiasts, merging social networking features and full-service digital production capabilities into a multimedia lifestyle portal. The WebRidesTV community enjoys high quality user submitted content and WebRidesTV's original auto coverage and car videos.
Media Contact:
Talia Roselli
http://www.WebRidesTV.com
310-558- 8061 ext. 251
talia @ webridestv.com
###