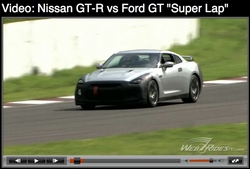 Culver City, CA (PRWEB) August 27, 2008
WebRidesTV today announced the availability of original content on MSN Video and MSN Mobile. WebRidesTV will deliver original, online videos of auto performance test and research analysis, how to service, parts and repair, new and used vehicle reviews, driving tips, in car products and accessories, car, truck, motorcycle, gas, electric, diesel and hybrid fuel technology, car show and shop tour access, industry news and lifestyle events across the MSN portal.
WebRidesTV's original online video series "The Super Lap Challenge", "The Shoot Out", "Profiled" and "Auto Show Blitz" will be available online at MSN Video and on MSN's English and Spanish language mobile device online platforms: MSN Mobile and MSN Mobile Latino.
The MSN and WebRidesTV collaboration also expands social networking for auto enthusiasts, who can use Windows Live services, including Windows Live Messenger, Windows Live Hotmail and Windows Live Spaces on their mobile devices to customize and share the best in online games, video and music.
Recently Microsoft's MSN Mobile group adopted dotMobi's DeviceAtlas database, which facilitates the adaptation of video content across multiple mobile device systems, including popular consumer products from electronics manufacturers Apple, HP, Sony, Blackberry, Orange, Palm, Samsung, LG, Motorola, Virgin, Nokia and Nintendo.
Co-Founder of WebRidesTV Larry Harvey says, "We are pleased to move forward with MSN as WebRidesTV's ultimate goal is to bring the hottest car video coverage right to your finger tips, whether you are using a personal computer, an iPhone, iPod Touch or a Pearl."
WebRidesTV will update the MSN portal every 48 hours with original, broadcast quality, multimedia programming for the auto enthusiast.
Harvey continues, "As automotive journalists we strive to develop and produce content that is accurate and entertaining. We look for twists on the conventional. For example, WebRidesTV often tests the mission statement of the vehicle and our analysis also considers the lifestyle element with which the vehicle is identified. Car news and auto information should be presented in depth, up close and personalized and certainly not in a sterilized format."
About WebRidesTV:
WebRidesTV is a Web destination for auto enthusiasts, merging social networking features and full-service digital production capabilities into an auto media portal. The WebRidesTV community enjoys high quality user submitted content and WebRidesTV's original auto coverage. Recently added channels to the WebRidesTV network include Hot Rods, Lowriders, BMW M3 and Auto Shows.
Media Contact:
Talia Roselli
WebRidesTV
talia(at)webridestv.com
Office: 310-558-8061 x 251
###