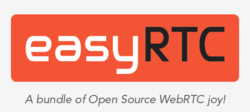 WebRTC reminds us of the early days of Linux. It is really tough to set up a development environment on your own server.
Victoria, BC (PRWEB) November 26, 2012
Priologic's easyRTC beta, a bundle of Open Source WebRTC joy, will launch mid-December with easyRTC Server Kit, easyRTC API, and working, HTML5 and Javascript, application source code under a BSD 2 license.
"WebRTC from scratch is hard. It takes a lot of trial and error setting up a Linux server and writing gnarly client code to get traction," says Pelton.
"easyRTC is intended to give developers quick, easy access to WebRTC. Instead of spending Christmas to New Years setting up WebRTC, spend an hour setting up easyRTC and then explore WebRTC by hacking our working application code," says Doug Pelton, founder and CEO of Priologic.
For a sneak preview of easyRTC, Priologic will be at the WebRTC Conference & Expo at the S. San Francisco convention center November 27-29, 2012 at booth 19.
Priologic is based in Victoria, BC Canada and provides senior Dedicated Enterprise Software teams to Fortune 100 companies operating in the Pacific Time Zone.