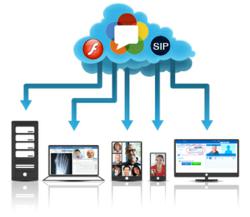 Conferences can be recorded as mp4 files or streamed to any device or media server.
London, UK (PRWEB UK) 31 May 2013
Since announcing the addition of WebRTC to its carrier grade Zenon IP Communications Gateway, Requestec has now started offering its WebRTC-enabled gateway to customers in both the health and financial enterprise sectors. The gateway includes a powerful MCU for conferencing together WebRTC, Flash RTMFP and SIP endpoints in a number of layouts which can be controlled remotely through an HTTP API or based on who is talking.
Video is transcoded only as needed and the bit-rate adaptation mechanisms of each protocol are used to ensure optimal encoding rates from each party. Since scalable video coding (SVC) is not possible with H264 AVC and VP8, a lower quality feed is available on demand for clients on poor connections. This balances the advantages of SVC with those of plugin-free, browser based video conferencing. Conferences can be recorded as mp4 files or streamed to any device or media server.
In addition to video conferencing, the platform supports messaging, presence, address book, profiles, appointments, forums, document collaboration and billing.
Extensive client and server APIs enable developers to control every aspect of the platform. Moreover, feature rich HTML5 clients are available for the web, iOS and Android that bring together all of these features in a highly polished and simplified format.
A spokesperson for Requestec said that "Right now we have some interesting world first projects going live with banks offering live video meetings to their customers and health providers offering video consultations to their patients. We use open standards where possible and address the firewall requirements of corporations."
Service administrators have access to comprehensive real-time monitoring and reporting, and the gateway is compliant with the strictest policies of information security and governance.
The platform is being demonstrated in Vienna, Austria at Genesys's G-Force Event on 11-13 June 2013, and in Atlanta, USA on 25-27 June 2013 at the WebRTC Conference & Expo.
For more information or to set up demos in the cloud or at your own data centre, please click here.
About Requestec:
Requestec has been delivering Video Calling, Conferencing and IVR software solutions since 2005. Through our flagship product, the Zenon IP Communications Gateway, we connect users on the web, and on iOS and Android devices, to services and agents in high quality live video and audio. We embrace the open standards surrounding video calling from H.323 and SIP through to HTML5, Flash and WebRTC, and provide development, consultancy and integration services to financial institutions, healthcare providers, educators and telecoms operators around the globe.