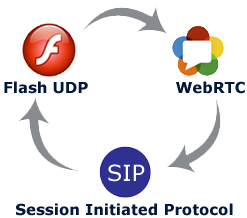 We believe this is the leading WebRTC to SIP and Flash to SIP gateway available in the market place today.
London, UK (PRWEB UK) 30 April 2013
The Zenon IP Comunications Gateway provides scalable video conferencing, streaming and recording in a SIP and IMS compliant environment. Calls can run peer-to-peer where required and seamlessly switch to using the gateway router for multi-person conferencing and recording as needed.
Zenon is a carrier grade product with proven SIP interoperability with all leading SIP and IMS platforms including NSN, Ericsson, Genesys and Broadsoft. The gateway also supports Flash RTMFP and can broker calls from between Flash and WebRTC allowing for cross platform interoperability. This allows service providers to support existing customer desktops through the use of Flash UDP while having a migration path to WebRTC should that emerge as the cross platform standard in the future.
Ben Weekes, Head of Technology says, "We believe this is the leading WebRTC to SIP and Flash to SIP gateway available on the market today. As we dug into existing solutions we could see they were great for demos but there was no decent bandwidth control or handling of packet loss for real life usage. Most of our customers require firewall traversal, which again, is not available in other WebRTC gateways to the best of my knowledge."
The Zenon Gateway is available in the Requestec Cloud or can be installed at a customer's site. There are existing production deployments with Tier 1 telcos such as Chungwha Telecom, Time Warner Cable and Deutsche Telekom.
Client SDKs and developer APIs are available for companies building their own video contact services. However, for a complete go-to-market solution with live references in the banking and medical verticals, the Saypage platform, available from Requestec, provides everything needed, including ready-made, branded apps for iOS and Android.
For more information, please visit http://www.requestec.com.
About Requestec:
Requestec has been delivering Video Calling, Conferencing and IVR software solutions since 2005. With a background in 3G circuit-switched video calling, Requestec embraces the open standards surrounding video calling from H.323 and SIP through to HTML5 and WebRTC. Requestec provides consultancy and integration services to financial institutions, healthcare providers, educators and telecoms operators around the globe, ensuring the highest quality and most relevant solutions designed to stand the test of time.