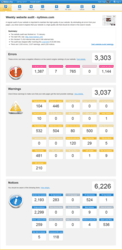 The average website has hundreds of errors that influence its search engine rankings.

These errors can be fixed for one dollar.
Germany (PRWEB) February 01, 2013
The more pages a website has, the more likely it is that there are many errors that have to be corrected. Even if the web pages were error-free when they were published, there can be several things that have to be fixed: links can get broken, servers can have problems, there might be duplicate content issues, etc.
All of these errors can have a negative influence on the search engine rankings of a web page. The website audit tool in SEOprofiler helps businesses to make sure that their web pages do not contain errors that lead to lower rankings and lost sales. Most businesses will see a major increase of their Google rankings after fixing the errors.
"When we tested our new audit tool, we found out that the average website has hundreds of errors," said SEOprofiler CEO Johannes Selbach. "Many technical errors can have a negative impact on the search engine rankings of a web page. The new website audit tool offers businesses an easy way to secure their online presence by fixing all of these errors."
The audit tool is easy to use. After entering the address of the website, all pages will be checked every week. The user gets a report that lists all errors sorted by importance. Users also get instructions on how to fix the found errors.
Error-free web pages are good for website visitors, website owners and search engines. If you have a website, you can test the new audit tool for just one dollar at SEOprofiler.com.