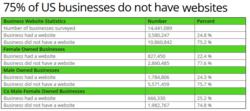 system walks users through designing their own web site by allowing them to utilize a drag, drop and upload feature with multiple royalty free images and instructions
(New York, NY) (PRWEB) June 23, 2013
SEARCHEN NETWORKS®, an Internet advertising firm has announced the release of powerful Website Builder Software, featuring easy to use templates, and drag-and-drop functionality.
"In 3 simple steps, the system walks users through designing their own web site by allowing them to utilize a drag, drop and upload feature with multiple royalty free images and instructions. It even includes hosting services," said John Colascione, author of "Mastering Your Website" and Chief Executive Officer of SEARCHEN NETWORKS®. "Our experts can also create, host and update your website. Plan includes 30 minutes of updates per month to keep your site fresh and current"
According to a survey by the US Census Bureau (75.2 %) still have no web site.
Businesses with No Website Statistics:
Number of businesses surveyed: 14,441,089
Business had a website: 3,580,247 (24.8 %)
Business did not have a website: 10,860,842 (75.2 %)
Source: US Census Bureau
Date Verified: 5.9.2012
"In order for customers to quickly access this service, as well as find out more information about it we're showcasing it at http://www.WebsiteSoftware.info" Colascione added.
About SEARCHEN NETWORKS®
SEARCHEN NETWORKS® is a pioneer in search engine marketing. The SEARCHEN® mission is, and has always been, to provide services poised at increasing a company's overall visibility on the Internet. Providing customers around the world with Internet domain names (web addresses), web hosting, SSL certificates and more, SEARCHEN NETWORKS® services its own network of media properties and provides expert Internet consulting to a select group of clients throughout the United States.
For more information on SEARCHEN NETWORKS® please visit https://www.searchen.com.