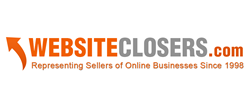 The team offers a free 24 hour business valuation and exit strategy for those looking to sell their website businesses.
Tampa, Florida (PRWEB) October 27, 2014
Having been in the website broker business for two decades, WebsiteClosers.com, and its team of highly professional business brokers, is proficient and highly-skilled at knowing how to sell a website business. They have tailored a number of different exit strategies for the deals they act as a business intermediary for because each transaction is different and brings about its very own set of obstacles to overcome. The team offers a free 24 hour business valuation and exit strategy for those looking to sell their website businesses.
Having the proficiency to sell a website business is never easy. A spokesperson from WebsiteClosers.com stated, "We connect our sale side clients with the right buyers to ensure a quick sale and to maximize our clients' profits. When selling ecommerce websites, you always have two goals, to maximize the sales price for your client, and to maximize cash at the closing table. WebsiteClosers.com has consistently sold website businesses for maximum profits as well as maximizing cash at the close of the deal by utilizing specific, proprietary techniques learned through our experience in the Internet / Tech Sectors. We take great pride in what we do, we are very good at it - our track record speaks for itself."
WebsiteClosers.com Services:
With the success of $50,000,000 in sold businesses to date, WebsiteClosers.com should be every web property owner's place to go when they are asking themselves, "How do I sell my website business"? In addition to the buying and selling of web properties, WebsiteClosers.com will also evaluate your business, develop an exit strategy and troubleshoot the endless issues that arise during the due diligence and lending stages of the deal, market your business with absolute discretion, along with a host of other invaluable services.
About WebsiteClosers.com:
WebsiteClosers.com, a leading website business brokerage, dedicated to representing those selling internet businesses, software and app companies and other technology assets. If one has a website business or other technology company, with an eye on developing an exit strategy, simply give them a call or send them an email to learn more. All messages are responded to same-day – no exceptions. They have experience buying, selling and owning a number of different kinds of Internet businesses, including e-commerce websites, software companies, Amazon businesses, eBay businesses, and other digital assets. Because of this experience, they are in the best possible position (compared to other business brokers) to get a tech deal closed fast while maximizing the sales price.
Contact Information:
Website: http://www.websiteclosers.com
Phone: (800) 251.1559
Email: info(at)websiteclosers(dot)com