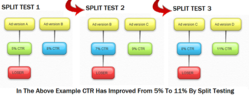 We have been running this for over a year and results are fantastic, 1300% and over 2000% gains have been made in performance on many campaigns just by understanding visitor behaviour
Brisbane,Australia (PRWEB) August 01, 2012
OMC,Online Marketing Lead Generation Specialists based in Brisbane,Australia, today launched a new inclusion as standard to their client services in the form of A/B Split testing for paid traffic landing pages. All client marketing campaigns will now include landing page split testing.
OMC Director David Twigg says "We are encountering more and more clients coming to us having had very poor experiences of online marketing campaigns with previous service providers. There are several reasons for their underperformance but one of the main factors is that they have not understood what their prospects want to see on their website. Our split testing software allows us to send 50% of traffic to page A and 50% to page B and then track how the traffic behaves, for example if they are looking at other pages,getting in touch or leaving and looking for the competition. We have been running this for over a year and results are fantastic, 1300% and over 2000% gains have been made in performance on many campaigns just by understanding visitor behaviour."
A/B Split testing has been around for a while but technological glitches and lack of reliable data were always a drawback with it. Twigg says "Our split testing service covers all the angles,it allows us to track 10 outcomes for each pair of landing pages and allows us to either test one small component or a completely different page for example long copy vs short copy."
Australia's internet audience was reported at 16.2 million at the end of the first half of 2012 by the Nielsen Australian Landscape Review. The Australian Online Advertising Industry delivered 15.6 billion display ad impressions in January this year according to Comscore. According to the Nielsen Australian Online Consumer report, 71% of people using the internet in Australia researched service providers before doing businesses with them.
About OMC
OMC(Online Marketing Consultants Pty Ltd) offer Specialised Online Lead Generation Services to clients looking to grow and dominate their market. Split Testing of Landing pages is the latest weaponry in their armoury that focuses on generating high quality traffic and implementing advanced website conversion strategy. Offering Google Advertising services within their 8 Step Lead generation system, they also incorporate ad copy split testing to focus on optimising click through rates of ppc campaigns. To read their recent article entitled "How To Maximise Your Website Conversions" click the link.