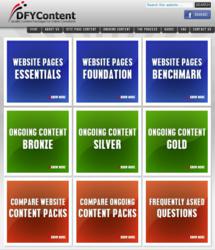 They are able to get the websites built... but when it comes to adding written copy to the website pages, the system falls down
(PRWEB) January 27, 2012
Specialist service niches within the online business world have allowed internet marketing consultants and business consultants to outsource, to high level experts, many of the components that make up their services portfolio. With the launch of DFYContent, internet writing specialist, Kerry Finch, completes that product offering, with website page copywriting packages.
"Already many of my clients are consultants who work closely with small to medium businesses to create and grow an online presence," said Kerry. "They are able to get the websites built, and ongoing SEO organized, but when it comes to adding written website copy to sites, the system falls down."
It was through her management of high level internet marketing events, though, that this massive gap in the services offered by online business consultants became obvious.
"Increasingly I hear consultants say that the biggest hurdle that they face in getting their clients' websites up and yielding results, is the task of populating those sites with written copy," she explained. "They tell me that often their clients believe that they write the content themselves - but the problem is, because those business owners need to devote their time to their core businesses, often writing the website copy is way down on their list."
Worse still, she says, is when they do get around to it, the result is content that is poorly worded, with bad spelling and with slap-dash grammar. Search engine optimization of the content is usually non-existent.
"Nothing blows the credibility of a website faster than badly written content," said Ms Finch.
Completing The Internet Marketing Consulting Services Suite
Internet marketing consultants these days do very little 'hands on' work themselves. Rather they are project managers who outsource each component of their clients online business needs. These include the actual construction and of the websites, logo design, video creation, and ongoing search engine optimization.
With the launch of DFYContent, they are now able to offer two more vital components:

The need for website page copy is obvious, but it is through the provision on ongoing SEO content that internet marketing consultants can really make a difference to the success of their clients' websites. Ms Finch explains:
"Websites are not 'publish and forget' undertakings. In order to succeed they need to be fed quality, relevant and unique ongoing content - to keep their readers engaged, and to be seen as valuable by the search engines."
"The DFYContent Ongoing Packages have been created for this purpose. They should in no way be confused with articles that might be created by an SEO outsourcer, though. These are premium articles that can be added to a website's Articles section. Our Pillar Articles might become authority posts on the site's blog," she said.
Online SEO press releases are included in the DFYContent ongoing content packages, as Ms Finch believes them to be vital to improving any businesses online footprint.
For details about how this new service can help internet marketing consultants succeed visit DFYContent.com
About DFYContent
DFYContent is not a faceless, no personality, automated service. It has been established to complement the KerryFinchWriting.com business, which offers quality written SEO content to the public.  The  purpose of DFYContent is to meet the specific needs of online business and internet marketing consultants, and website designers, who are offering done-for-you (DFY) services to their clients. DFYContent offers website copy packs for both initial website page content, and ongoing content – with prices to suit both modest and serious budgets.
> Learn more about DFYContent website copy writing.
About Kerry Finch
Kerry Finch provides website writing services to online businesses and internet marketing consultants, through both DFYContent.com and KerryFinchWriting.com. She sets and maintains the high standards needed for well-researched premium SEO content, with the knowledge that uniqueness and relevance are rewarded by great rankings from the search engines. Together with her team (which comprises great writers from Australia, USA, Philippines, Canada and the UK) she provides premium, relevant content to those companies and individuals who understand the importance of growing their websites over time. Some of her writers are specialists in certain niches: the law, internet marketing, the environmental, trades, health and fitness;  others can turn their hands to just about any topic. Over many years she has assembled and coached them in the techniques that are required to write for the nuanced communities that comprise 'online business.' Kerry has a background in administration, marketing and public relations, and has established an enviable reputation and solid relationships with some of the elite of the online business world.  She has created several information products (ebooks) and one training course on writing for the internet, and have compiled a free glossary of internet marketing terms called "What the @%!* Does THAT Mean?"
Additional qualifications:

Diploma in Marketing Management
Member Internet Marketing Association
Member, Australian Society of Authors
Member, Internet Society of Australia
Diamond Author, Ezinearticles.com
Details about her new DFYContent written website copy service, visit DFYContent.com.
###