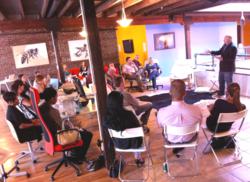 Today, we are focused on providing world class digital experiences for our clients.
Louisville, KY (PRWEB) May 27, 2011
Louisville interactive agency Makespace has experienced explosive business growth over the past year, five years after its initial opening in spring of 2006. As a result, Makespace is expanding offices both locally and nationally, increasing its web design services with new divisions dedicated to 3D animation, internet marketing, and web hosting and analytics. They have also launched a new corporate website this week that reflects their larger presence.
In the course of the last year, Makespace has grown from a team of four to that of 18 specialists in disciplines including User Experience Design, 3D Rendering & Animation, Search Engine Marketing, and Social Media. Recent new hires include Kat French, former Social Media Manager at a prominent Louisville ad agency, who has worked on social media initiatives from several national Fortune 500 brands.
The Company's customer base has grown from local businesses to regional and national brands. As a result of this wider client-base and several new strategic partnerships, Makespace opened its Chicago office last month, and is considering expansion into the Indianapolis market. Additionally, they are currently expanding their home offices on Shelby Street in Louisville, Kentucky.
"It's been a huge year for us," said Makespace Founder, Mark Palmer. "We have the kind of clients any company would be happy to work with, and an outstanding team. That makes my job one of the best, if not the best, one I know of. Over the past six to nine months, expanding our offerings and geographical reach has enabled us to experience significant growth. We just finished the build-out of the first floor of our downtown office, which will be great when we throw our big five year anniversary celebration this July."
"It's amazing how much opportunity is out there for interactive agencies like ours," says Palmer. "Today, we are focused on providing world class digital experiences for our clients. At the same time, we don't want to be the 'cobbler's kids who have no shoes.' Our own website needed an overhaul. So even with everything else going on, we still managed to launch our own new corporate website."
The new website launched May 12, 2011 at http://www.makespaceweb.com and features an updated portfolio with clients including the YMCA of Greater Louisville, The PGA of America, and Qdoba Mexican Grill. More details about Makespace's new divisions offering web hosting, analytics, interactive marketing, social media and 3D rendering will be announced in June.
ABOUT MAKESPACE
Makespace is based in Louisville, Kentucky. They offer full service web design and development, including corporate branding and identity, user experience design, search engine optimization & marketing, and graphic design.
Contact Information:
Makespace!
1236 South Shelby Street
Louisville, KY 40203
(502) 749-2899
http://www.makespaceweb.com
###