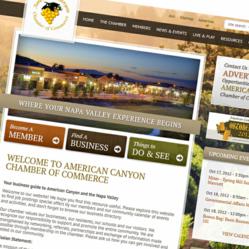 Seattle, WA (PRWEB) January 31, 2013
American Canyon is a California chamber of commerce located near Napa Valley. The mission of American Canyon Chamber is to promote, preserve and strengthen the prosperity of its members and the community.
Looking to create more value for chamber members and promote local businesses, the American Canyon Chamber enlisted the help of Seattle web design firm, efelle media, to design a new website and improve backend website functionality. In addition to getting a branded, custom website design (complete with a full-page background imagery of a vineyard), the chamber also transitioned onto efelle media's website content management system, FusionCMS, and chamber of commerce online marketing platform, ChamberFusion.
ChamberFusion is the first fully-integrated marketing and management platform designed specifically for chambers of commerce. The FusionCMS system and ChamberFusion platform allow the chamber's administrative staff to manage and update all of their website content – from the chamber's events calendar (including registration), directory listings, blog news, email newsletter marketing, and more.
The ChamberFusion system also streamlines the chamber's member profile management efforts. All chamber members have access to their own profile content management, so the chamber staff has more time to allocate towards new member acquisition, community building, and other activities. Also, small businesses and individuals have the added benefit of building their online presence through the chamber -- the ChamberFusion system is designed to improve organic search engine optimization for chamber members with complete profiles.
With more than 400 successfully completed custom website design and development projects under its belt, efelle media continues to work with a variety of business entities in dozens of industries, from start-ups, non-profits, and local small businesses to large national and international corporations. In addition to its chamber of commerce member management platform, efelle media also offers other custom online marketing solutions including web design and website content management for ecommerce businesses, law firms, property managers, medical industry professionals, and more.
To learn more about efelle media or the FusionCMS platform, visit http://www.efellemedia.com.
To check out American Canyon's new site, visit http://www.amcanchamber.org.
About efelle media
Founded in 2005, efelle media specializes in custom website design and development with an emphasis in organic search engine optimization. Over the past 8 years, efelle media has grown into a full, in-house team of web design and developers, internet marketing professionals, and production and support staff and continues to produce complete online marketing systems for clients nationwide from its Seattle offices.