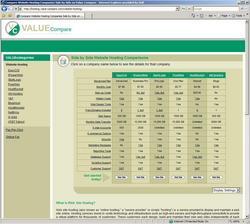 We've put a great deal of effort into creating a site that is easy to use and saves time and money for consumers.
Fort Worth, Texas (PRWEB) May 7, 2008
Today See Fusion Search Marketing Inc. launched their new Value-Compare.com (http://www.value-compare.com) Website hosting comparison tool which allows consumers to easily shop for a hosting service by price and 15 additional key metrics. Selecting a Web hosting company can be a daunting task. Value-Compare.com makes it easy by bringing everything a consumer needs to make an informed decision to one Website.
The Value-Compare.com system is easy to use and understandable with a side-by-side analysis of features offered by each service. Charts can also be customized to fit the specific hosting needs of each user. The sixteen point comparison chart includes: Monthly Pricing, Sign-up Costs, Hidden Costs, Web Design Tools, Number of Free Domains Included, Disc Space, Monthly Data Transfer, E-mail Accounts, E-commerce Options, Security, Marketing Packages, Reporting Tools, Database Support, Scripting Support and Customer Support.
Shoppers looking for a hosting service for their Web site could spend hours, even days gathering data and comparing information and pricing. With Value-Compare.com all of that data and pricing information has been gathered for them in one location at: hosting.value-compare.com.
Consumers can also take advantage of our unique two-company Website Hosting comparison page. Here you will find all of the chart data mentioned above plus pros, cons and our experts' conclusions about both companies in one place (Example - EasyCGI vs. iPowerWeb). This format is easy to scan and allows a customer to quickly select the deal that is best suited for his or her individual needs.
"The new Website hosting comparison service helps customers find the hosting company that is the best value for their individual needs," said Winston Williams President of See Fusion Search Marketing. "We've put a great deal of effort into creating a site that is easy to use and saves time and money for consumers."
Accredited media interested in scheduling an interview to discuss this release are encouraged to contact Mike Williams at value-compare @ seefusiontech.com or call (817) 339-6151.
About See Fusion Search Marketing Inc.
See Fusion Search Marketing is based in Fort Worth Texas and has been designing Web-based tools for consumers since 2005.
###