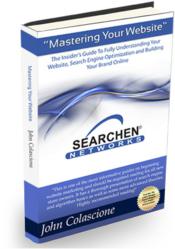 This book offers detailed explanations on what's happening with Google as well as what's likely coming down the road
New York, NY (PRWEB) July 20, 2012
After over a decade of researching changes in search engines and how they effect a scope of platforms available to consumers, Searchen Networks Inc., has released its first book titled "Mastering Your Website", The Insider's Guide To Fully Understanding Your Website, Search Engine Optimization and Building Your Brand (Volume 1) [Paperback . The book, written by Chief Executive Officer John Colascione, introduces a revolutionary approach to fully understand your website, its running environment, search optimization and building your brand on the web.
Distributed by On-Demand Publishing, LLC, the book highlights research and case studies in four key areas: 1) search engine optimization, 2) social media marketing, 3) content marketing, and 4) Google. Mastering Your Website gives a sophisticated insight into what does and doesn't work when it comes to vital aspects of establishing a highly-visible web brand, including effective search engine optimization and how search algorithms work, the importance that social media plays such as Twitter, Facebook, and Google+, advertising, fine-tuning your website's back end, and more.
"In the beginning of April 2012 Google announced the release of a significant and large scale update to its search algorithm which took place in late February. This particular update has been considered an extension of previous updates which have taken place over the last year or so called 'Google Panda' but are unlike those which are related to content, identifying the originators of content, and brands. This is likely why this latest tweak has been given a brand new squeaky clean name: 'Google Penguin', because it's not about content anymore. No, it's gone further than that, it's clearly about links," says author John Colascione. "This book, which I originally released on April 16, 2012 covers what Google had been working on for a while, and its release happens to line up perfectly for marketers looking for a detailed explanation on what's happening with Google as well as what's likely coming down the road," he added.
Available in both Paperback (Amazon) and EBook (Kindle) format through Amazon's Kindle, this book answers often sought questions on how to build and promote a web site that works for you rather than you for it.
For author interview or journalist / reporter requests please contact SEARCHEN® at (631) 587-7050 Ext: 705 or send email to bookinfo(at)masteringyourwebsite(dot)com
About The Author: John Colascione
John Colascione is President and CEO of Searchen Networks ® Inc., an internet marketing and search engine consultancy and research firm in New York. The company also provides a variety of consulting services related to running and developing an online business. Offers web site management, server administration as well as self-service tools which enable consumers to register domain names, setup web hosting, order and install SSL certificates, marketing tools and more.
For more information on this book please visit http://www.website-marketing.org