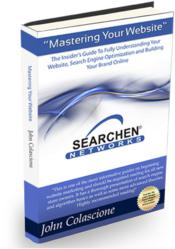 New York, NY (PRWEB) May 09, 2013
Searchen Networks, and Internet advertising company, has announced the Copyright registration and publication of a print book titled "Mastering Your Website". The book is designed to be useful to everyone, from basic, intermediate and highly advanced SEO professionals.
Type of Work: Text
Registration Number / Date: TX0007570340 / 2012-04-23
Application Title: Mastering Your Website.
Title: Mastering Your Website.
Description: Book.
Copyright Claimant: Searchen Networks Inc.
Date of Creation: 2012
Date of Publication: 2012-01-15
Nation of First Publication: United States
Authorship on Application: Searchen Networks Inc., employer for hire; Domicile: United States; Citizenship: United States. Authorship: text, photograph(s), editing, artwork.
Rights and Permissions: Searchen Networks Inc.,
Copyright Note: C.O. correspondence.
ISBN: 978-1475155662
Names: Searchen Networks Inc.
To view the official registration please visit http://cocatalog.loc.gov/cgi-bin/Pwebrecon.cgi?SC=Author&SA=Searchen%20Networks%20Inc
About SEARCHEN NETWORKS®
Searchen Networks ® is a pioneer in search engine marketing. The SEARCHEN® mission is, and has always been, to provide services poised at increasing a company's overall visibility on the Internet. Providing customers around the world with Internet domain names (web addresses), web hosting, SSL certificates and more, Searchen Networks ® services its own network of media properties and provides expert Internet consulting to a select group of clients throughout the United States.